Project Mailbox
Donating to charity, one nickel at a time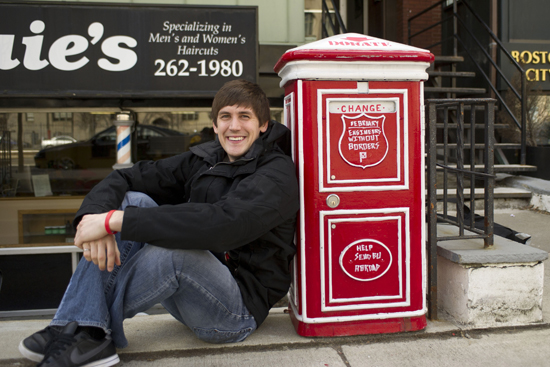 It's a quirky sight: a three-and-a-half-foot-tall antique red and white mailbox standing just outside of University Grill on Commonwealth Ave. Its purpose is even more unusual: instead of dropping in mail, people drop nickels, dimes—even the occasional dollar or two—into the slot.
Welcome to Project Mailbox, a charity cofounded by Nick Dougherty (ENG'12) and Kaylee Dombrowski (CFA'11), now a development officer at the Goldman School of Dental Medicine. The organization has raised more than $1,500 since it launched in October 2011. The project is based on the idea that if everyone regularly donated pocket change, a substantial amount of money could be raised to support various charitable organizations.
The idea for Project Mailbox came to Dougherty in 2010 when he attended his brother's high school awards ceremony. Watching students being awarded for commitment to community service, he recalled a story about a local family who had fallen on hard times. Without being asked, the entire community began quietly dropping spare change into the family's mailbox. Dougherty, who had been involved in community service projects in high school, wanted to do something similar at BU.
"The idea came to me to help out my neighbors anonymously," he recalls. He figured if every BU undergraduate donated a quarter a week, they could raise $16,000 a month for charity. Best of all, he realized that "it wouldn't mean students have to donate a ton of money—just what's in their pocket."
Back at school, Dougherty teamed up with his close friend Dombrowski to get Project Mailbox off the ground. The two designed a plan that allows students to nominate and vote for a different charity each month. That charity then receives 100 percent of what Project Mailbox collects during the month. Students can nominate a charity at the organization's monthly meetings, whose dates and locations are posted on the website. Donations can be made either at the physical mailbox or online.
In its first month, the organization raised $625.59 for Project Habitat, a charity that has provided support to the small town of Brimfield, Mass., which was devastated by a rare tornado last June. It was a particularly fitting inaugural donation since Dougherty purchased the namesake antique mailbox at the Brimfield Antique Show.
In November, Project Mailbox donated $121 to Turkish Red Crescent for Earthquake Relief, a relief agency assisting those left homeless by Turkey's October earthquake that killed more than 200 people. The organization then set its sights closer to home, donating the $450.99 collected in December and January to Bridge Over Troubled Waters, a Boston charity that supports homeless and troubled youth. Last month's $336.81 went to BU's student chapter of Engineers Without Borders, which helps disadvantaged communities around the world through engineering solutions.
Students voted to send the March proceeds to benefit Jacinto Ortega (SAR'10), who is running in the 2012 Boston Marathon as part of Spaulding Rehabilitation Hospital's Race for Rehab.
As word of the charity spreads (they have 169 "likes" so far on Facebook), Project Mailbox is teaming up with BU's chapter of the Public Relations Student Society of America to raise the group's visibility, at the suggestion of Stephen Quigley (SED'87), a COM associate professor of public relations. It is also diligently working to establish official 501(C)3 status, which, Dougherty says, requires loads of paperwork.
Dougherty hopes that Project Mailbox will expand to other colleges in the Boston area in a Beanpot-like competition. Eventually, he says, it could involve millions of college students. "Imagine if every campus in this country had its own method of raising money," he says. "That could be sending millions of dollars into local communities. And a lot people think that if you're not spending 20 hours on community service, you can't be charitable. But every bit helps."
Perhaps the organization's motto says it best: "Think inside the box."
Interested in learning more about Project Mailbox or donating? Find info here.