Il Matrimonio Segreto an Upbeat, Comical Opera
CFA stages a Cimarosa opera buffa
While the world can't get enough of Wolfgang Amadeus Mozart, the 61 operas of his contemporary Domenico Cimarosa have been mostly relegated to obscurity. One exception is the Italian composer's Il Matrimonio Segreto (The Secret Marriage). Premiered in Vienna in 1792, this lyrical domestic romp became one of the most popular 18th-century comic operas, delighting audiences from Berlin to Palermo to St. Petersburg.
The College of Fine Arts Schools of Music and of Theatre staged the lavish opera buffa at the Boston University Theatre in February. With a libretto packed with enough mischief to captivate audiences of all ages, the opera was a highlight of the Opera Institute's 2011–2012 season.
Often cited as reminiscent of Mozart's Le Nozze di Figaro, as well as a likely influence on Rossini's Barber of Seville, Il Matrimonio Segreto "has the exciting challenges of Rossini-like vocal lines, Italian recitative, and comedic acting," says Sharon Daniels, a CFA associate professor and director of the Opera Institute. "It lives as a musical bridge between Mozart and Rossini, with lyrical melodies and brilliant, challenging ensembles." The opera's Giovanni Bertati libretto was described by New York Times classical music critic Anthony Tommasini (CFA'82) as "amusing and humane, refreshingly free of absurd disguises and mistaken identities." If there is such a thing as a feel-good opera, this is one; the music is "incredibly charming," says William Lumpkin, a CFA associate professor of music and Opera Institute music director. Lumpkin conducted BU's 36-piece Chamber Orchestra for the production.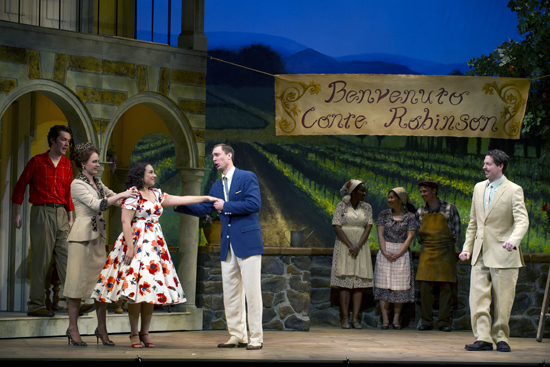 Inspired in part by British artist William Hogarth's painting series Marriage à-la-Mode, the opera unfolds in the picturesque villa of Il Signor Geronimo, whose household is run by his sister and his two daughters, the younger of whom, Carolina, is secretly married to Geronimo's young secretary, Paolino. Geronimo's clueless efforts to marry off his daughters while his sister focuses her affections on the stealthily spoken-for Paolino makes for a good-natured, farcical dance that ends happily. Sung in Italian with English supertitles by Allison Voth, a CFA associate professor and Opera Institute principal coach, the domestic comedy is a tangled but benign web of arranged marriages, dowries, feuding sisters, banishment to convents, and star-crossed romance.
Guest stage director Amy Hutchison likens the opera, which has two alternating casts, to a "game of love Twister." For this production, Hutchison transported the tale to the late 1950s, although the set designed by Ji Young Han (CFA'12)—a Tuscan villa and lush courtyard—is as timeless as it is exquisite, she says. And the sisters are "fashionistas," she adds, glamorously outfitted by costume designer Daisy Farrant (CFA'12).
The only Cimarosa work that is still performed regularly, Il Matrimonio Segreto "clearly honors Mozart's operas," says Hutchison, "yet pushes into new territory for its time, anticipating the vocal pyrotechnics" that came into vogue later on, particularly in the works of Rossini. Bertati's libretto "also pushes at the confines of tradition." Its aristocratic, working-class, and merchant-class characters are entertwined in the farcical plot, "without respect for boundaries between social strata."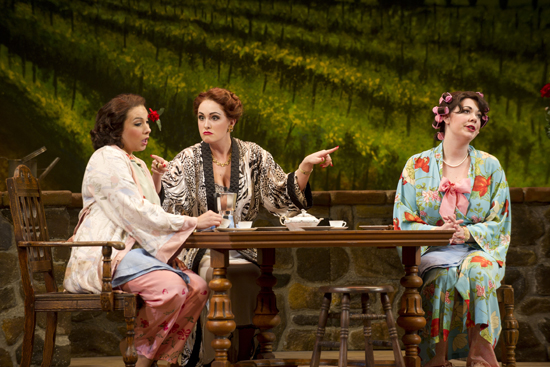 "This is my first buffa role," says Celeste Fraser (CFA'13), who sings the part of Elisetta, one of the sisters. "I've done very serious parts; usually I die or kill somebody." While the characters may seem two-dimensional at first, she says, Hutchison has helped the cast "create really deep characters." As Geronimo, Heath Sorensen (CFA'12) is embracing his first operatic role with lots of recitative. "I'm learning how recitative furthers the character," instead of trying to express all emotions in an aria, he says. And the process of rehearsing such a physically comic opera has been great fun, according to both Sorensen and Fraser. "We crack up in rehearsal, and come out of there happy every day," Fraser says.
Lumpkin chose the opera, which has no choruses, to suit the strengths of current individual Opera Institute students' voices. "We also take into account what Boston audiences will respond to," he says. And, of course, the work is in Italian, the language in which BU's singers are trained.
Another selling point of this particular opera: kids adore it. Both music and plot are accessible, says Hutchison, who is certain that when her eight-year-old daughter sees the 2-hour, 40-minute production, she will be tickled by the comedic antics and enthralled with the music. "It's a good first opera," she says.
Il Matrimonio Segreto runs February 23, 24, and 25, at 7:30 p.m., and February 26, at 2 p.m., at the Boston University Theatre, 264 Huntington Ave., Boston. Tickets are $20 for the general public, $15 for BU alumni, WGBH members, Huntington Theatre Company subscribers, and senior citizens; $5 for students with ID. Members of the BU community can get two free tickets with BU ID at the door on the day of performance. By public transportation, take the MBTA Green Line to Copley Square or the Orange Line to Back Bay. Purchase tickets here or call 617-933-8600.