Have a Beer with Notch Brewing
Tasting tonight in Kendall Square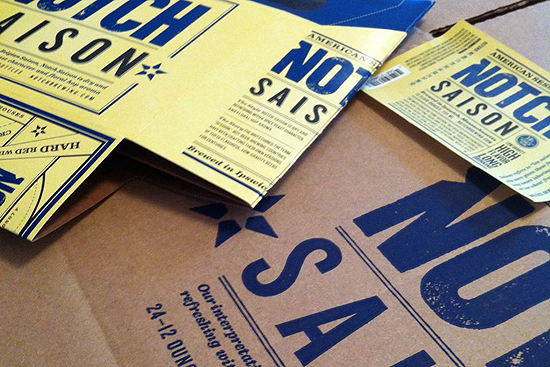 Listen up, all you beer aficionados. Notch Brewing celebrates its second anniversary tonight at Firebrand Saints in Cambridge by serving its celebrated Notch Saison beer.
Known for the flagship year-round Notch Session Pils and Notch Session Ale, the Ipswich, Mass., brewery introduced a third, Notch Saison, last summer, and recently began selling it in 12-ounce bottles. The company now brews a total of three beers—the Pils, the Ale, and the Saison.
Saison beer was originally brewed by Belgian farmers to quench the thirst of their seasonal field hands (les saisonniers). Each farmer used whatever ingredients were available locally, giving each saison its own distinct character. Fortunately for the farms' productivity, the refreshing beer had a lower alcohol content than other beers.
Following tradition, Notch's saison also has a lower-than-norm alcohol content (only 3.8 percent), and the brewery uses local ingredients, including wheat malted by Valley Malt in Hadley, Mass., in the beer. Notch Saison, described as light, crisp, and citrusy, scored a decent 84 on BeerAdvocate.com.
At tonight's tasting, Notch will also serve pints of the Pils. Both the Pils and the Saison will run $6. In addition, Firebrand Saints will be cooking up special menu items to complement the Notch beers.
Notch Brewing will be at Firebrand Saints, One Broadway, Cambridge, tonight, March 15, from 5:30 to 7:30 p.m. Admission is free, but beer and food are not. The event is 21-plus. More information can be found here.