University Grads Rated Among World's Most Employable
International survey puts BU in top 10 U.S. schools, 17th worldwide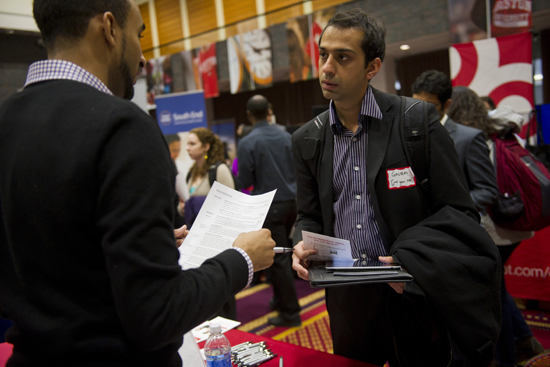 The power of a BU diploma was recognized last week when the employability of graduates of the University was ranked 17th in the world and 7th among U.S. schools in a survey published in the New York Times and the International Herald Tribune. The 2012 Global Employability Survey was conducted by Emerging, a French consulting firm, and Trendence, a German polling institute, and asked hundreds of international companies which universities were most likely to produce the ideal employee; it also asked them to list the ideal qualities of a new graduate.
Harvard was ranked number one among U.S. schools, followed by Yale, Stanford, MIT, Columbia, Princeton, and BU.
Jean Morrison, University provost and chief academic officer, says the administration is delighted that BU is so highly regarded on the global stage.
"The results are an excellent characterization of the quality of our students," Morrison says. "BU is a global university in that our students have meaningful experiences that prepare them for the global marketplace. Given that the survey reflects the views of international CEOs, business managers, and recruiters at international companies, it's really excellent recognition of the quality and versatility of our students."
Part one of the two-part survey asked more than 2,500 recruiters in 20 countries (including Britain, China, and the United States) to describe the qualities they find important in a new hire. The online survey included questions such as to what extent should a new hire be immediately effective and productive in the company, which foreign languages (other than English) are needed to succeed in a company, and which qualities are important for the long-term employability of a graduate. It also asked about "soft skills," such as adaptability, communications, and the ability to work in a team.
Part two asked the same group, as well as CEOs and company chairs, to name their countries' top universities. Answers from both parts of the survey, as well as consideration of last year's results (BU ranked 51st), were used to determine the 150 global institutions whose graduates were most employable.
Kenneth Freeman, the Allen Questrom Professor and Dean of the School of Management, formerly led Quest Diagnostics and was a partner at investment firm Kohlberg Kravis Roberts & Co., and he is still a senior advisor at the company. He says that global employers often look for the "four Cs": cultural awareness, communication skills, collaboration, and creativity. "They aspire to hire individuals who are sensitive to the impact of cultural differences across countries in the ways business is conducted; write and speak clearly and persuasively; actively participate in and lead cross functional teams; and think broadly, expanding the boundaries, and identifying new ways of doing things," Freeman says. "Boston University prepares its students well in each of these areas."
The survey results were published two months after BU was ranked 51st in the country, up from 53rd last year, by U.S. News & World Report, and named 64th, up 6 spots from last year, by the QS World University Rankings.
Denise Mooney, associate vice president for enrollment and student affairs, says the global perspective of many of BU's academic and extracurricular programs lends an advantage in the international job market, one that is particularly useful when unemployment in this country hovers around 8 percent. She also believes the rigor of the University's academic programs makes BU graduates attractive to employers.
"In the survey," says Mooney, "employers cited factors such as the ability to work in a team and work under pressure, and those things are important aspects in many of our programs here. We also have a strong study abroad program that incorporates internships, and we have an excellent representation of international students, which means that students study, work, and live with others from around the globe, and they develop multicultural skills. "
Last year, 6,041 international students from 140 countries were enrolled in the University, making up 17 percent of the student body, according to the International Students & Scholars Office.
Students also get help preparing for a global labor market from the University's Center for Career Development. The center, in its new home in the Center for Student Services, at 100 Bay State Road, brings more than 100 companies to campus during its job expos and on-campus recruiting sessions, and its online job database, the BU CareerLink, works with the database Going Global to provide country career guides and international job postings for students who are interested in careers overseas.