BU's Winning Olympians
Three alums medal at 2012 London Games
Old habits die hard. After nearly a decade of rising each morning at dawn to row, Natalie Dell tweeted last Thursday, "Day 1 of post-racing bliss: awake at 5:25 a.m. like clockwork." This despite the fact that less than 24 hours earlier, Dell, a member of the U.S. women's Olympic rowing team, had captured a bronze medal in the quadruple sculls. Even with the competition behind her, she found it impossible to sleep in.
The 27-year-old grew up fishing with her father on Chesapeake Bay, but acknowledged in an interview with USA Today that rowing didn't come naturally when she first picked up oars as an undergraduate at Penn State. After earning a master's in public health at BU, Dell (SPH'09) won a spot on the U.S. women's rowing team and spent months practicing in both sweep and sculling boats to earn a berth on the U.S. Olympic team. While she trained, she continued her work with veterans suffering from post-traumatic stress disorder at the Bedford VA Medical Center.
Competing at the Eton Dorney Rowing Centre at Dorney Lake on August 1, Dell and fellow crew members Adrienne Martelli, Megan Kalmoe, and Kara Kohler beat the Australian team by just 1.4 seconds to secure third place. Ukraine won gold and Germany silver. A visibly emotional Dell held back tears as she stood on the dais to receive her medal.
Dell is one of three alums who medaled at this year's Olympic Games. Rowing for Germany, BU men's crew alum Florian Mennigen (CAS'06) found himself cheered on by England's Prince William and 25,000 other fans gathered at Dorney Lake on August 1 to watch Mennigen's team beat Canada by just 1.23 seconds to take first place in the Men's Eight Final A rowing competition. Mennigen is the third Terrier to win a gold medal in rowing. As an undergraduate, he helped guide BU to the Grand Final at the 2005 IRA Regatta and Eastern Sprints. A cocaptain during his senior year, Mennigen shared the E. Ray Speare Award as the University's top male scholar-athlete for 2006.
"We're very excited for Florian," says BU men's crew head coach Thomas Bohrer, who twice won Olympic silver, in 1988 and 1992. "First of all, he epitomizes a great athlete and a great person. When he was at BU, he had an excellent work ethic at the boathouse and in the classroom. It does not surprise me that he's in this position."
Rounding out the BU medalists is Kamal Bahamdan (ENG'94), who this past Monday won a bronze medal in equestrian team jumping for his native Saudi Arabia. Competing before a crowd of 23,000 n Greenwich Park, the Saudi equestrian team earned its first-ever team jumping medal. Bahamdan is a five-time equestrian Olympian, having previously competed in the 1996 Atlanta games, the 2000 Sydney games, the 2004 Athens games, and the 2008 Beijing  games. He placed fourth in the individual jumping competition on August 8, narrowly missing a chance at a second medal.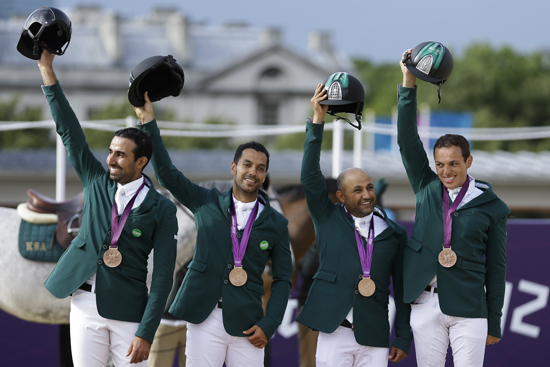 Just hours after winning bronze, he tweeted, "I'm really moved by the supporting comments I got. It feels as good as the medal. Thank you!"
Born in Riyadh in 1971, Bahamdan began riding when he was seven. While at BU, where he majored in manufacturing engineering, he competed in the East Coast Circuit. He took a sabbatical from his job as CEO of the Bahamdan Group, a privately owned investment firm founded by his family, to train for the 2012 Olympic Games.
Also competing at the London games was Ella Gunson (SAR'14), a field hockey player from New Zealand. A seven-year veteran of her country's national field hockey program, Gunson took up the sport at age nine. Her team's hopes for winning a bronze medal were dashed earlier today when Great Britain defeated New Zealand 3-1. A junior who recently transferred to BU from Massey University in Auckland, Gunson is the first athlete from BU to compete in an Olympic field hockey event.
Other BU alums in the 2012 London Olympic Games included Rachael Vanderwal (SED'06), a member of Great Britain's first Olympic women's basketball team; Jozef Klaassen (SMG'09) and Meindert Klem (CGS'07, CAS'10), both of whom rowed for the Netherlands men's crew team; and Australian men's Olympic basketball team coach Brett Brown (MET'83), who is an assistant coach with the National Basketball Association's San Antonio Spurs. Will Daly (CGS'04, SMG'06) was an alternate for the U.S. men's rowing team.
As for Dell, while she may find it impossible to sleep in, one aspect of her wake-up routine has changed: the day after winning, she tweeted: "Wearing the medal to breakfast."