Black Students Describe Slurs, Suspicion Following Robberies
Audience grills police, BU officials at town hall forum
Racist remarks and suspicious glances from fellow students have stung African American men at BU in the wake of four recent successful or attempted armed robberies by young black suspects near the Charles River Campus, several students  told a town meeting forum last night.
Dean of Students Kenneth Elmore (SED'87) reacted angrily to one student's report that a peer on her floor suggested she could protect herself  if she would "stay away from black people."
"That's an ignorant comment," said a visibly emotional Elmore, who is African American. He urged students to "call each other on that crap. When we don't call people out on it, we should all be ashamed. We should deal with it ourselves. Do not let that go by. Next question."
University officials speedily called the forum—part security briefing, part Q&A that became a plea for civility—after an attempted robbery Tuesday night at 808 Commonwealth Ave. that was thwarted when a female student told two assailants she had no valuables. The town meeting drew about 250 students to the George Sherman Union Ballroom. With Elmore moderating, they sat in a circle around a slightly raised platform where four University and police leaders fielded questions: Peter Fiedler (COM'77), vice president for administrative services, BU Police Chief Thomas Robbins, Brookline Police Chief Daniel O'Leary, and Boston Police Sergeant Mike O'Hara. The first three wore business attire, while O'Hara appeared in uniform, his badge gleaming against his navy blue police jacket.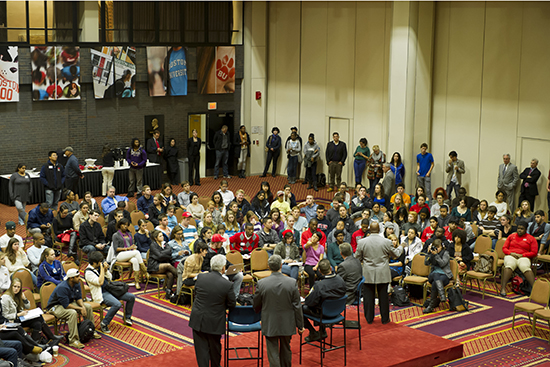 Several students questioned the decision by security officials to disclose through the BU Security Alert system and in BU Today the race of the suspects in the four incidents, while not revealing other details. They asked why other relevant information released Wednesday afternoon—the suspects' distinctive backpacks, the fact that one wore braces on his teeth and new Air Jordan sneakers—had not been disclosed previously. The four speakers replied that the information hadn't been immediately available, but was publicized once it was known, via a video released by Brookline Police Wednesday showing some of the suspects, and through press information, including a BU Today story that was posted late yesterday afternoon.
"If it had been white males who had committed these crimes, we would have done exactly the same thing. There's no prejudice," Fiedler said. The three police representatives stressed that their officers receive cultural sensitivity training, with O'Hara praising the University's alert system: "We'd like to have something like that all over the city."
Demarius Walker (CAS'13), an African American who said he'd once been stopped by the BUPD on an unrelated matter when he had done nothing wrong, said that while "I'm more upset with the fact there are black people who are robbing people," he also wanted to know what procedures the police follow to protect citizens' rights in such cases. Robbins replied that officers are expected to provide specifics of why they deem someone suspicious. If a person is approached, "just be cooperative" and explain what you're doing, he advised.
"We don't get many quote-unquote false calls, false alarms," he said. "Black males are crime victims more than most people," O'Hara added. "Help us help you."
Another black student said that "African Americans across this campus are being put in this little box" of suspicion. He expressed concern that officials had previously disclosed only information about the suspects' race, but then acknowledged he'd missed the disseminated information about suspects' braces and clothing. "I apologize," he said. Fiedler, meanwhile, said the meeting highlighted kinks in the alert system, such as the fact that different members of the BU community can lag in receiving text alerts, while others, depending on their type of cell phone, may receive a single message broken into several chunks.
"Just so you know, there are 47,562 people" on the receiving end, he said.
BU has offered a $10,000 award for information leading to the arrest and conviction of anyone involved in the incidents. The suspects in the video are wanted in connection with the second and third robberies, according to Brookline Police, who say different people might be responsible for the first robbery and the fourth, failed attempt.
The robberies don't appear to be connected either to gang activity or to the murder in Allston last spring of a Graduate School of Management student, police told the crowd. They also said increased patrols in the area include both marked and unmarked police vehicles.
Students interviewed after the forum were split in their assessments. Chelsea Curry (COM'14) thought that students' commentaries were dismissed. But Ann Jacob (CAS'14) said she felt safer now "because I got a better sense of who these suspects are, that you're not just targeting any African American you see walking on the street."
She said Elmore's remarks against bigotry and the ensuing applause "really stood out. The awareness of race culture is important to talk about, as well as looking at how we're targeting these minority populations on campus. The entire room can say yes, we're with you, and we should call people out if they say something that targets a group of people."
The suspects are described as males between the ages of 16 and 20. All have worn hooded sweatshirts, according to victims' statements.
In all four cases, victims said that the robbers pulled a handgun and demanded money and possessions. So far, no one has been injured. Boston, Brookline, and University Police have increased patrols on and near campus.
Amy Laskowski contributed to this story.