Two PBS Pioneers Look Back
CFA alums' home serves as muse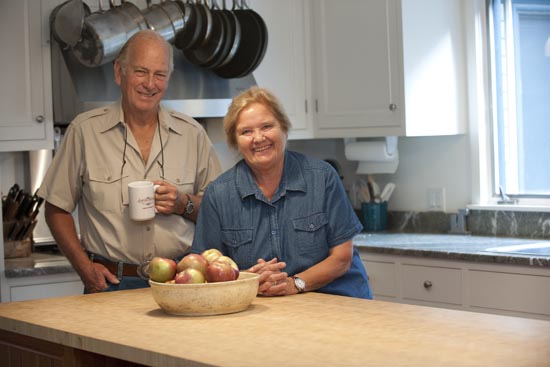 Forget the 13 Emmys dotted around the living room, the photograph with Muhammad Ali nestled in an alcove—even the Julia Child books resting, with some significance, alongside the family snapshots in the kitchen.
If you get too caught up in the mementos of two stellar careers, you might neglect the house—it's a star, too. Its renovation inspired the PBS show This Old House; the kitchen and yard were sometime sets for another PBS hit, the long-running Victory Garden; and tucked away at the far end of an extensive lawn is the studio used by carpenter Norm Abram on the recently retired New Yankee Workshop.
If you have a favorite public TV show, Marian and Russell Morash, who met at the College of Fine Arts, were probably involved in it at some point. Touring their greater Boston area home is like making a small-screen pilgrimage.
The Boston Globe has called Russell (CFA'57) the "granddaddy of do-it-yourself TV." He doesn't "quite see myself as that," he says, but the title isn't far off the mark. A longtime producer and director at Boston's public television station WGBH, he created The Victory Garden, This Old House, and The New Yankee Workshop, and was the first to bring Julia Child's classic series The French Chef to television.
He also helped bring his wife, Marian (CFA'59), to stardom—pressing her ("I was cheap," but willing, she quips) onto the set as the resident Victory Garden cooking ace, Chef Marian. She later penned accompanying cookbooks, was an executive chef on a number of Julia Child programs, ran a restaurant on Nantucket, and turned down the chance to appear on the first 24-hour food network.
First, the kitchen
It may be hard to believe, but Marian's early forays into cooking didn't extend much beyond tuna casserole. From this light-filled kitchen—recently renovated as a nine-episode construction project on The New Yankee Workshop—she showed America how to pickle eggplant and spruce up Swiss chard. She credits Julia Child (Hon.'76) with the transformation.
Russell recalls that in 1963, while still in his 20s, he teamed up with "this strange woman with a strange accent" for a "little cooking show." It was, he says, "just one of three or four shows" he worked on at the time, but with every episode of The French Chef shot live, there'd be unfinished meals languishing on set. Child gave them to Russell. "She would send home things they had partially cooked, with all kinds of instructions—finish it off this way, Marian, and do this and do that—and I started cooking," says Marian. As she and Child became closer, cooking became a bigger part of her life, a fun "diversion from taking care of the children," she says.
Her fast-growing skills would soon impress more than growing kids: friends looking to open a restaurant on Nantucket asked her to join them and re-create the dinners she dished up at home. With no formal training, Marian helped them turn an old dockside launderette into the still-popular Straight Wharf Restaurant. She says her 11-year term as head chef was "the most fun" she's had in her career and brought back fond memories of her time as a CFA theater set design student: "There's a camaraderie in the theater that's hard to beat; I think I had a taste of that in the restaurant."
Into the yard and Yankee heaven
While the Morash kitchen holds the story of a life shaped in part by television, the rest of the renovated 19th-century farmhouse tells a different tale. Russell shaped television—and has the Emmys to prove it.
It was at CFA that he first caught a glimpse of his potential. After floundering in the wrong program at a rival college, he arrived at BU on academic probation. He came to study theater, but the skills he learned at CFA proved instrumental in helping him land a small-screen job at WGBH in the late 1950s. The station needed someone with a theater background to corral its on-screen stars, "to mount productions, and deal with the talent—that's what I'd been trained to do, so it was a perfect fit," he says.
Russell spent the next two decades directing public television staples for WGBH, from kids' shows to Shakespearean revues, but it was his after-work interests—gardening and home improvement—that were to introduce a new genre: how-to television.
A small vegetable patch provides the only hint that the Morashes' yard was once The Victory Garden's home. (The show's first garden was in the WGBH parking lot, where the studio-bound cameras "rolled as far as their cables would permit," Russell says.) He had suggested a gardening program to the bosses at WGBH because he was a "passionate, if inexpert, gardener" and wanted audiences to learn the pleasures and benefits of filling their kitchen tables with vegetables from their own backyards. It helped that the 1975 launch of the show, which was first called Crockett's Victory Garden, resonated with a nation squeezed by an oil embargo and talking about self-sufficiency. Soon secure in a prime-time slot, the series generated a best-selling book and cookbook—cue Chef Marian—and despite the passing of its first host (James Crockett died in 1979), is still rolling 35 seasons later.
The success ignited Russell's career. "Instead of tolerating me," he says, station managers asked if he had any other shows in mind. After renovating his own home, he did.
"I said, 'Well, there is this idea I've had about buying a house, fixing the house, and selling the house.'" This Old House would inspire numerous do-it-yourself shows. "People just loved it because there was no such thing; there was absolutely no reality television." It also led to another long-running success—and a barn-like building and TV studio at the end of the Morash yard—The New Yankee Workshop. The woodworking program completed a 21-year run in 2009. With its once-humming saws dormant, the shop is peaceful now (Russell has pondered giving it to the Smithsonian, but after witnessing the protracted process of donating Child's old kitchen, he can't face the paperwork). Still, projects from the show—beautifully crafted cabinets, a sturdy dovecote—fill the Morash homestead.
The good life
The Workshop's end left the Morashes officially retired—he putters in the yard, she cooks the produce he grows. Russell tends to avoid the current versions of his old shows—"Been there, done that"—but is pleased the concepts have taken off, even if some of today's how-to efforts are "just dreadful." Marian agrees, but acknowledges watching the Food Channel's Iron Chef America. "It's fun and I've seen some chefs I know on it," she says. "I watch it more for amusement than to get any really heavy-duty cooking ideas."
Andrew Thurston can be reached at thurston@bu.edu.
A version of this article originally appeared in the Spring 2011 edition of Esprit.