Sons of the Prophet Premieres at Calderwood
Playwright Karam brings comic life to a very bad year
In the formative weeks leading up to the opening of the Huntington Theatre Company's world premiere of Stephen Karam's dark comedy Sons of the Prophet, the playwright was into his 14th draft, handing the cast new changes at almost every rehearsal. "He's a very collaborative writer," says Sons director Peter DuBois. Also the Huntington's creative director, DuBois says he and Karam traded roles in a refreshing way as they fine-tuned the play, in which a family's rotten luck becomes the stuff of high comedy.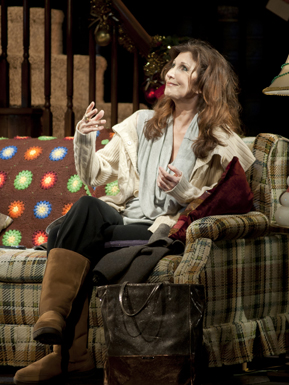 Inspired by Karam's childhood, Sons is the saga of two gay Lebanese-American brothers in an economically depressed Pennsylvania town who are having a very bad year, marked by mysterious ailments, a failing uncle, and their father's death from a school prank gone horribly wrong. If the predictions of DuBois and the actors, among them Tony Award winner Joanna Gleason (Into the Woods, Dirty Rotten Scoundrels) (right), are accurate, the play promises to be "laugh-out-loud funny," as the New York Post said of Karam's previous work.
Karam "makes everything very true and very funny," says Charles Socarides, who plays Timothy, one of the brothers. "He can do it all."
Assistant director Christopher J. Carcione (COM'08) says the play is as touching as it is humorous, examining how we cope with grief. Carcione, who directed Wasteland, by Boston Playwrights' Theatre artistic director Kate Snodgrass (GRS'90), at last year's Boston Theatre Marathon, has worked with DuBois on many Huntington productions. The give-and-take as the play took form was a wonderfully intimate experience, he says.
As a college student, Karam staged a musical adaptation of Jane Austen's Emma at the Kennedy Center, and his play Speech and Debate, about three misfit high school students, knocked the socks off the toughest critics, including Caryn James of the New York Times, when it opened in 2007. Hailing the play's cliché-free humor, James wrote that Speech and Debate left audiences "immensely entertained." Overture Films has hired Karam to write the screenplay for an upcoming film adaptation of the play.
"Fellow playwrights have warned me that since my last play went well, the same critics will have their claws sharpened this time around," says Karam, boyish-looking at 31. "But the bottom line is, it's out of my control." All one can do, he adds, is "put your best work out there and hope it speaks to people." From DuBois there are only raves: Karam "has this incredible gift of 'effing' the ineffable. He takes the mess of our lives and turns it into phenomenal comedy." Karam and DuBois have worked together on Sons for the last two years, as the play progressed from a film workshop in Poughkeepsie to Manhattan's Roundabout Theatre Company, which commissioned the play and where it will be produced in the fall.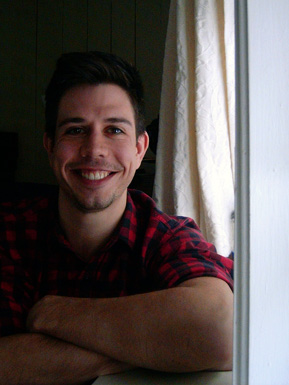 Like the family in Sons, Karam (left) is of Lebanese descent, and the play's title comes from Kahlil Gibran's The Prophet. Karam says that while all his characters are based on people he knows, rarely is one a carbon copy. "Most are hybrids," says the admirer of playwrights Caryl Churchill, Craig Lucas (CFA'73), Joe Orton, Tony Kushner, Edward Albee (Hon.'10), and not surprisingly, Anton Chekhov. "I never create a character unless I believe in them 100 percent, in their humanity," he adds.
Joining Gleason and Socarides in the cast are Kelsey Kurz (The Merchant of Venice on Broadway) as Joseph, Lizbeth Mackay as Mrs. McAndrew, and Dee Nelson as Doctor Manor. Both Mackay and Nelson appeared in last year's Huntington production of Arthur Miller's All My Sons.
Karam acknowledges that writing comedy—especially tragicomedy—is "the hardest thing in the world. I'm not sure why that is," he says. "I just know that when one of my comic moments falls flat in front of an audience, I want to dig a hole beneath the seats and disappear into it." When it comes to his own dialogue, he says, he's ruthless. "If something I thought would be funny isn't playing well in previews, you can bet it will be cut."
Sons of the Prophet runs through Sunday, May 1, at the Calderwood Pavilion at the Boston Center for the Arts, 527 Tremont St., Boston. Tickets range from $20 to $89 and may be purchased online, by phone at 617-266-0800, or in person at the BU Theatre box office, 264 Huntington Ave., or at the Calderwood Pavilion box office. Patrons 35 and younger may purchase $25 tickets (ID required) for any production, and there is a $5 discount for seniors and military personnel. Student rush tickets are available for $15 at the box office two hours before each performance, and members of the BU community get $10 off (ID required) a regular price ticket. Members of the BU community are eligible for a special subscription rate. Call 617-266-0800 for more information. Follow the Huntington Theatre Company on Twitter at @huntington.
Susan Seligson can be reached at sueselig@bu.edu.