BU Student Relives Arrest with Occupy Boston
Hours handcuffed and jailed, but determined to protest again
John Brandon Wood sat in his microeconomics class on Comm Ave yesterday, just 32 hours after he'd been carted off to jail by riot police.
Wood (CAS'13) had joined Monday's Occupy Boston protest against political and financial elites out of his conviction that corporations control the government. He was one of about a half dozen BU students among the 141 Occupy Boston protesters arrested in the wee hours of Tuesday morning.
Dean of Students Kenneth Elmore says the police have not sent formal complaints about the arrested students to the University; if they do, the University will schedule hearings to listen to the students' side.
As for any sanctions, "it's case by case, so it's hard for me to say whether or not there will be any disciplinary action," says Elmore (SED'87). Ironically, his regular Friday Coffee and Conversation last week discussed the protest and drew a packed house of about 150.
"I'm never encouraging anyone to break the law," Elmore says, "but I am encouraging everyone to engage in the civic process. At some point, students have to make some decisions for themselves" as to whether that engagement involves a willingness to be arrested and face potential University sanctions. "This is a form of democracy we're watching. I encourage young people to follow their convictions, wherever they may lead."
Boston police made the arrests after protesters defied an order late Monday night to leave the Rose Kennedy Greenway, where officials worried the mass gathering would damage recent renovations. The police said neither officers nor protesters suffered serious injuries, although one cop was hit in the face. For its part, Occupy Boston issued a statement that police officers had "brutally attacked" demonstrators.
Wood says he joined BU's arm of Occupy Boston after "doing a lot of research about how our current campaign financing system functions and how much influence corporations have on our government." The movement also attracted him with its grassroots origin—"people coming together and having a conversation about these problems that isn't happening on media, that isn't coming from the politicians."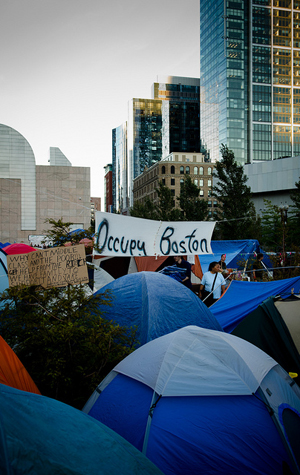 According to Wood, he was a link in the "human chain" surrounding Occupy Boston's camp, standing just behind the point where police initially advanced. "Riot police went straight for people's hands in order to break their grip and break the chain, and many held for a very long time," he says. "I was fighting to hold my footing and grip while two riot police officers came to the two people on either side of me and tried to break their grip." Once the officers succeeded, he says, three cops tried to force him on the ground, yelling, "We'll take this one! We'll take this one!" One repeatedly kicked Wood in the back of his knees to get him down, he says.
Once on the ground, Wood says, he "felt an immense weight on top of me." He yelled his name to a legal representative assisting Occupy Boston, then was cuffed in plastic wrist restraints that he says cut off the circulation to his hands and "caused extreme pain."
He complied with the officers when they escorted him to a paddy wagon, which took him and eight others to a Dorchester jail. He was put in a cell with another arrestee and kept there for several hours, handcuffed, waiting to be processed. The cell was small, dirty, and "worst of all, extremely cold," he says. "I managed to get my cuffs in front of me, and I tried to get some sleep," but failed because of a bright ceiling light. Finally, he was fingerprinted and processed.
Later in the morning, he was driven to a holding cell with other protesters and had to wait several hours, cuffed again, to see a judge. "The worst of all, for me at least, was tracking the time of day," Wood says. "In jail, there are no windows or clocks, so there is no conception of the time of day, which began to disturb me as time went on.
"The guards called a dozen names at a time every 30 minutes or so, and I was finally taken to the courtroom with a dozen others, where I accepted the $50 ticket" and was freed. The fine was part of a deal worked out by prosecutors, but some protesters declined to take it, arguing that the arrests were inappropriate, the Boston Globe reports.
According to the Globe, the police advanced on the protestors after two warnings to leave, putting them on their stomachs, immobilizing their arms behind their backs, and dragging them off.
Boston Mayor Thomas Menino (Hon.'01) says he endorses Occupy Boston's goals, but could not stand by once the group began to impede traffic and set up camp on the renovated Greenway, which they'd been asked to skirt. "Civil disobedience will not be tolerated," the mayor said at a press conference on Tuesday.
About 35 BU students gathered at the George Sherman Union Tuesday night to discuss sending a letter to city officials about how the arrests were handled, as well as ways to help arrested BU students and the logistics of continuing the protest. The Boston University Police Department monitored the meeting, at which several students voiced their reasons for joining Occupy Boston.
"The corporations that make billions are given tax breaks at the expense of health care, education, infrastructure, and other services for citizens who pay tax," said Kareem Chehayeb (CAS'13). Aviva Stein (CAS'14) objected to there being "such a huge gap in the population economically. It's important to understand the history behind that and move forward in a positive way, because other efforts haven't worked."
Wood's thoughts after his encounter with the Boston legal system? "I hope that more people come down and have their voices heard.…Professors and the academic community need to get more involved with their expertise, either by going down to the occupation, discussing it in class, or setting up panels to talk about the issues."
As for himself, "there is no question that I will rejoin" the occupation, he says. "I never left." In fact, he thinks it's likely that he'll be rearrested at some point.
Allison Thomasseau can be reached at althoma@bu.edu.