How-To Handbook for Handling Hoarders
BU researcher is go-to source for those finding hoarders
When a cable TV technician arrived at an elderly woman's home, he found it so crammed with piles of paper that he could barely make his way through. At home that night, he scanned the web for information on hoarding and found Christiana Bratiotis' name and phone number. He called the postdoctoral researcher the next day at Boston University's School of Social Work to ask what he should do. After considering his description of the house, Bratiotis suggested that he file a report with a local social service agency.
Over the past few years, postdoctoral researcher Bratiotis (SSW'09), director of the SSW Hoarding Research Project, has become a de facto hotline for anyone, from firemen to exterminators, who comes across a hoarder. Along with two graduate students, she fields calls and emails from hoarders around the country and from people who are concerned about them. She typically gets a dozen calls a week. One recent inquiry came from a nurse at an assisted living facility in the Boston area who found that a new resident was stashing tissue and toilet paper under her bed. Another came from a housing inspector in western Massachusetts who needed to immediately find temporary housing for a hoarder. Bratiotis says most of the calls come from around New England, with California a close second.
Hoarding is a mental illness that is largely hidden, because most hoarders don't think they have a problem. When they are discovered, it is usually by someone with no mental health training, such as a Meals on Wheels volunteer, a landlord, or an emergency medical technician. Most of those coming across a hoarder have no idea what to do.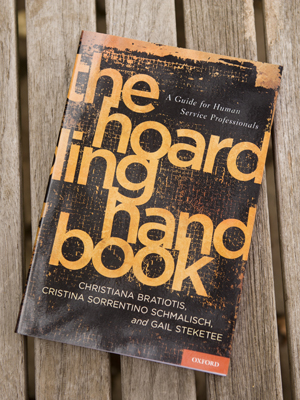 "Mental illness is confusing to people who are not mental health practitioners," says Bratiotis. "And hoarding is an overwhelming problem when you walk into it."
That's one reason Bratiotis and coauthors Gail Steketee, a professor and dean of the School of Social work, and Cristina Sorrentino Schmalisch (SSW'05), a psychotherapist and former director of the Hoarding Research Project, wrote The Hoarding Handbook, published this year by Oxford University Press. While there are books about hoarders and books for hoarders, The Hoarding Handbook is the first book written for people who find hoarders.
According to Steketee's research, between 3 percent and 4 percent of the population, or six million Americans, are hoarders. And while the disorder has proved a riveting subject for reality TV shows, it is often not taken seriously as a mental illness.
The book includes practical tips on how to interact with hoarders: do not touch their stuff, do not make suggestions about how they could organize it, do not make negative remarks or use the word "hoarder." Always use respectful language. For example, if a hoarder refers to what looks like garbage as his "collection," you should do the same.
Bratiotis says the book grew out of her doctoral research on the effectiveness of hoarding task forces. These groups, which currently number 85 in the United States, are made up of safety inspectors, police officers, public health nurses, social workers, and animal control officers. People who find hoarders can help tremendously, Bratiotis says, or they can make it harder to help, even with innocent exclamations like, "What a mess!"
"One of the biggest dangers," says Steketee, "is negative comments, which will cause the hoarder to not open the door to anyone else, especially a mental health worker."
Another mistake is the clean-out, which has unfortunately been the solution of choice for many agencies for decades. Steketee says removing the mountains of magazines might resolve safety code violations, but it can aggravate the hoarder's underlying problem. In nearly every case where there is a clean-out, she says, the mounds of belongings rise again, often more quickly than the first time around.
Bratiotis, who says it's crucial that anyone who comes across a hoarder notify a mental health agency, now gets calls nearly constantly.
While at a conference in Atlanta recently, she got several questions on her BlackBerry, including one from a manager at a geriatric care facility. He was concerned that a patient was going to be released to a home jammed with belongings. Bratiotis suggested that the hoarder and her family devise a plan to clear the house just enough to make it safe for the hoarder and visiting nurses.
"These calls are a heartbreaking part of the work and a very rewarding part of the work," she says.