Metcalf Award Winner John Caradonna
Chemistry prof's formula for powerful learning experience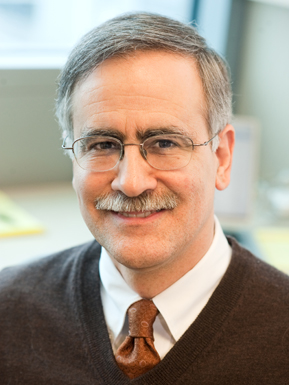 To illustrate the complexities of chemistry, he turns to the simplest of teaching tools: gumdrops and toothpicks. It's that kind of unpretentious and practical methodology that helped John Caradonna, an associate professor of chemistry in the College of Arts & Sciences, win one of this year's Metcalf Awards for Teaching Excellence.
Because while that methodology may sound like a preschool pastime, it actually does help the University's Inorganic Chemistry students to "really see the geometry of transition metal compounds," as one student wrote to the Metcalf selection committee in praise of Caradonna. "When the exam day came, I can say we were more prepared than most, and perhaps had more fun."
In his statement of teaching philosophy to the committee, Caradonna said he tries to go beyond chemistry in his classroom instruction.
"The ability to utilize both quantitative and qualitative reasoning skills is essential in our modern society," he wrote, "and that requires training above and beyond what is typically taught and presented in the secondary school curriculum.
"What does change," Caradonna wrote, "depending on the level of the class and the particular student, is the starting point of this joint journey and the optimal path that will be taken to reach our objective."
That means empathizing with freshmen who are struggling to adjust to college study pressures, guiding advanced chemistry majors to link what they've learned in the past with what they're being taught now, and teaching graduate students to think critically about what's in a textbook rather than accepting it as gospel.
Another student described Caradonna as "a father figure." Yet another reported that she pondered dropping chemistry as a major until taking Caradonna's Inorganic Chemistry class, which made exhilarating "a very difficult and dry subject."
John Straub, a CAS professor and department chairman, says Caradonna's dozen years of work at BU have been "truly exceptional," including his redesign of Inorganic Chemistry, the "'crown jewel' of our majors program." The associate professor also works with teachers-in-training in the chemistry department's Postdoctoral Faculty Fellows Program.
Convinced that mentoring the youngest students is vital as well, Caradonna has spent summers working with BU's Research Internship in Science and Engineering Program for high schoolers.
The winners of this year's Metcalf Awards and the Metcalf Cup and Prize — the University's highest teaching honors — were announced at the annual Senior Breakfast, on April 30, and will be presented at Commencement, on Sunday, May 16.
The honors were created in 1973 with a gift from the late Arthur G. B. Metcalf (SED'35, Hon.'74), a former faculty member and longtime chairman of the Board of Trustees. The Cup winner receives $10,000, the Award winners $5,000 each. A committee chooses the winners based on nominees' statements of teaching philosophy, letters of support from colleagues and students, and committee members' in-class observations of the teachers.
Caradonna came to BU in 1998 after more than a decade on the Yale faculty. He has a bachelor's degree from Johns Hopkins, two master's degrees, from Hopkins and Columbia, and a Ph.D. from Columbia.
Read about Metcalf Cup and Prize winner J. Gregory McDaniel, an associate professor of mechanical engineering at the College of Engineering, and Metcalf Award winner Sandra Nicolucci, an associate professor of music and music education at the College of Fine Arts.
Rich Barlow can be reached at barlowr@bu.edu. Amy Laskowski can be reached at amlaskow@bu.edu; follow her on Twitter at @amlaskow.