Building Wireless Access
More dorm rooms, dining rooms, and classrooms to join the network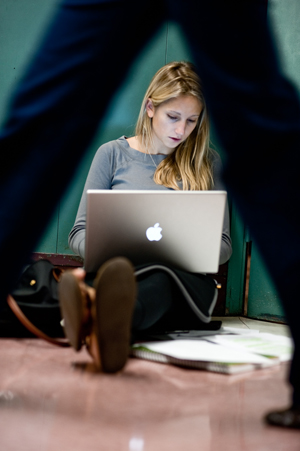 When James Sappenfield was a freshman, the wireless network on campus was unreliable at best.
"College of Arts & Sciences classrooms were unpredictable," says Sappenfield (CAS'10, SMG'10), president of the Student Union. "There was often wireless, but you had no idea whether you'd be able to access it and how frequently you'd be kicked off. It was incredibly frustrating."
While the technology has improved in four years, students still want better, more expansive wireless access, he says. "It's something that's needed. Everyone relies on wireless."
Students like Sappenfield are getting their wish. The University is embarking on a project that will bring wireless access to dorm rooms, dining halls, and more than 200 classrooms across campus, according to Tracy Schroeder, BU's vice president for information services and technology (IS&T).
Areas on the Charles River Campus currently covered by a wireless network include residence hall common rooms, new buildings such as StuVi2, the BU Beach, and approximately 15 percent of centrally scheduled and maintained classrooms.
Schroeder says her office has begun identifying the best locations for wireless access points in residence halls and classroom buildings and the cable infrastructure they require. If all goes according to plan, she says, by the end of June 74 classrooms on Commonwealth Avenue and 6,262 bedrooms — in the Towers on Bay State Road and in all residences west of the BU Bridge — will have wireless access. By June 30, 2011, 94 additional classrooms and 4,229 bedrooms will have the technology. The following year, 63 classrooms and 1,091 bedrooms in Bay State Road brownstones will be covered. Once the expansion is complete, in a little more than two years, all centrally scheduled and maintained classrooms — about 50 percent of all classrooms — will be covered, Schroeder says.
A detailed schedule of work will be posted on the IS&T Web site later in the spring. Administrative and faculty offices are not included in the project.
Last fall, IS&T surveyed students, faculty, and staff about their satisfaction with technology services at BU. The service that fell short most often was wireless access. "For students, it was the number-one issue," Schroeder says.
Her office also considered which devices and toys first-year students would bring with them next fall.
"We don't know how big iPads are going to be," she says. "But there's a good chance that those and competing devices that may be available between now and August will be popular off-to-college gifts, and we want to be sure that students are able to use them when they arrive on campus."
Students cheered the plan.
"I do think this expansion is overdue," says Sappenfield, who notes that new technology has profoundly changed study habits. "We're no longer bound by cables or power outlets. Now you've got three-, four-, five-hour batteries, and you can study wherever you want. I think it's pretty exciting that it's happening."
Graphic design major Jessica Kim (CFA'11) has few complaints about BU's wireless coverage, but is all for expanding the technology. Her only misgiving: "If they're going to raise our tuition," she says, "it wouldn't be worth it for a little more access."
Projected cost figures for the expanded access have not yet been released.
Kate Jewell (GRS'10), a teaching assistant and graduate student in the CAS history department, says she supports better access, particularly in the classroom. "From a teaching standpoint, it makes it easier to bring materials into class," she says. A political campaign ad pulled from YouTube, for example, could help illustrate a point.
But Jewell, who often sits in the back of the classroom, sees a downside to laptops in lecture halls: distraction. "I watched a girl shop for bathing suits through an entire class," she says.
Schroeder agrees that wireless access in classrooms is a double-edged sword.
"It's an opportunity for faculty and students to use online resources as part of the course, to do things together that previously could only be done in a computer lab," she says. "But there are certainly faculty who find student use of the Internet in the classroom to be disruptive and a detractor of students' attention. I do want to be sensitive to the concerns of faculty who may choose to tell students not to bring their computers or to keep them off during class."
Expanding the wireless network is an investment the University needs to make, she adds: "At a premier research institution, wireless connectivity is becoming a basic expectation. It's part of the quality of the environment."
Cynthia K. Buccini can be reached at cbuccini@bu.edu.