Terriers Claim 29th Beanpot
BU beats Northeastern 5-2 in final at Garden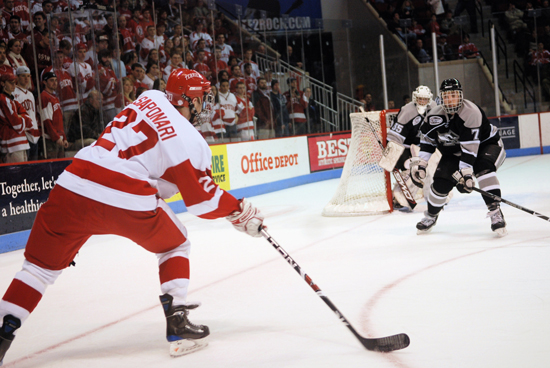 The top-ranked Boston University men's ice hockey team (22-5-1) claimed BU's 29th Beanpot title in a 5-2 victory over the Northeastern University Huskies last night at the TD Banknorth Garden.
Colby Cohen (CAS'11) gave the Terriers an early lead in the first period, and BU stayed ahead on a goal from Nick Bonino (CAS'11) in the second. The Huskies evened the score twice, but 11 minutes into the second, Jason Lawrence (CAS'09) gave the Terriers a one-goal lead, and BU scoring took off in the middle of a Husky power play in the third; David Warsofsky (CGS'10) scored his second goal of the season, and Colin Wilson (CAS'11) followed with his 10th 30 seconds later, bringing the score to 5-2. Bonino was named the game's Most Valuable Player.
The BU team is currently on a nation-best eight-game win streak and is 15-1-1 in its last 17 games. Last night's game was the 200th meeting between the cross-town rivals, but Northeastern hasn't claimed the trophy since 1988, when it posted a 6-3 victory over Terriers for its fourth Pot championship. BU has won all 14 Beanpot matchups with the Huskies since, including a 5-4 triumph in last season's consolation game. That streak is longest between two opponents in the tournament's history.
The Terriers have an all-time Beanpot record of 83-31, which includes a 30-7 (.806) record vs. Northeastern.
The two teams will face off twice more in the next two weeks as they wrap up their Hockey East series with a home-and-home set (February 20 and 21) that should go a long way in determining who claims the league's regular-season crown. Northeastern currently holds the top spot in the Hockey East standings by just two points over the Terriers.
BU reached last night's title game by virtue of its 4-3 come-from-behind victory over Harvard in the first round on February 2. Lawrence scored the game-winning goal at 18:14 of the third period, as the Terriers responded to an early 2-0 deficit with three unanswered tallies — including two from Bonino. Northeastern posted a convincing 6-1 victory over BC in the other semifinal.
In the consolation game, Boston College defeated Harvard, 4-3.
Jessica Ullian can be reached at jullian@bu.edu.