School Building
Brendan Callahan and Alyssa Snow look to "Achieve in Africa"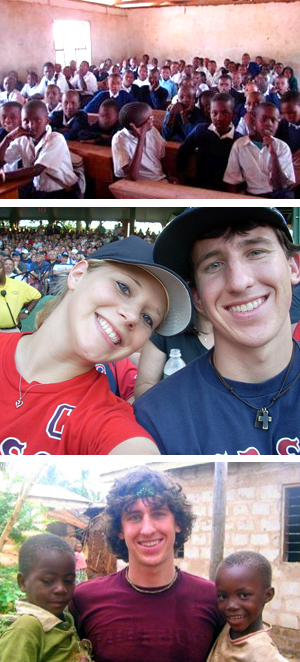 Brendan Callahan slept on the floor of his Boston-area apartment for over a week after movers lugged his furniture to Rockville, Md. Callahan (SMG'09) started a job at Lockheed Martin on July 13.
Since May, Alyssa Snow has been interning in Washington, D.C., at MS&L, a public relations firm that specializes in advocacy and public affairs. In the fall, Snow (COM'09) will be polishing off her final graduation requirement with another internship, this time in Los Angeles. After that, she hopes to find a job at a PR firm.
These seem like typical tales of postcollegiate life. Yet at the same time Callahan and Snow are plunging into the professional world, they're managing a construction site more than 7,000 miles away.
They are cofounders of Achieve in Africa, a nonprofit organization raising money to rebuild a schoolhouse in Olasiti, a Tanzanian village in the shadow of Mount Kilimanjaro.
"It's something I want to do for the rest of my life," says Callahan. "I can see myself fundraising forever."
Snow agrees. "I would love to volunteer full-time in Africa," she says, "because we could do so much there. My long-term goal is definitely to use the skills I've acquired in my education and work experience to help others. I'd love it to be my full-time job, if it were possible."
The two recent graduates started Achieve in Africa last fall. On a 2007 trip to Tanzania with the BU Catholic Center, Callahan says, he was amazed at the African students' thirst for knowledge despite a learning environment bereft of accommodations and support. The trip inspired a desire to help in a tangible way.
The 16-room school, the equivalent of grades one through seven, is the only school in Olasiti. It houses nearly 2,000 children, and sometimes a classroom has more than 100 students, many sharing textbooks, desks, and writing supplies and some even having to stand.
Because of this, Achieve in Africa's first project, Operation Olasiti, aims to rebuild a decrepit two-classroom building.
Callahan focuses on the business side of the nonprofit, Snow on communications, although according to Snow, most of the time they end up doing the work together. "We have differing strengths and expertise, but we're both very passionate about this," she says. "There's a lot that needs to be done together: organizational matters, holding meetings for our board of directors, replying to e-mails. It's a big job."
While still undergraduates, the juggling was even more difficult. But there were some synergies: when assigned projects in business or communication courses, the organizers used their real-life nonprofit instead of creating fictitious companies, Snow says, which made the workload "much more manageable."
And motivation is never a problem. The children they are trying to help provide that.
"When I was feeling stressed during the school year, I'd look at the Web site and at our mission statement to remind myself why I was doing it," says Callahan. "That's what keeps me going."
Since September, Callahan and Snow have been getting more than their 15 minutes of fame. Newspapers coast to coast, from California to New Hampshire and Boston have picked up their story; even celebrity gossip columnist Perez Hilton recently offered them some kudos. Classmate and filmmaker Ryan Urban (COM'09) will travel to Africa with Callahan and Snow later this summer in hope of posting a documentary about Operation Olasiti on the organization's Web site by the end of summer.
Callahan went to Tanzania in early June to finalize plans for the building project with local officials. "Everyone has to know about everything," he explains. "Trust is extremely important, because corruption is such a big deal in Third World countries like this. We want the people of Olasiti to know exactly what we're doing here."
The villagers will assist with labor to offset costs. Sweat equity is crucial; classrooms have to be rebuilt almost entirely, racking up a bill of about $11,000 in materials and contractor fees.
Callahan and Snow have been fundraising for months. Since the Web site launched in January (allowing people to donate online) and with countless letters to companies, organizations, families, and friends, they've raised just enough to cover the cost of the school's rehab.
They are now putting finishing touches on a final business plan, including a detailed budget and a timeline, to present to Achieve in Africa's board of directors. Once approved and implemented, Operation Olasiti should be completed in less than two weeks. Callahan says they hope to finish by the end of August.
Once the building is finished, the Olasiti government has committed to hiring two new teachers, which will reduce class sizes dramatically. 
Next step? A Desk Campaign, already begun, will raise funds for 50 desks to be installed in the new classrooms. And Snow and Callahan have already started talking about a project they call the Orphan Fund, raising money for direct support to one of the school's top students, who has had to work to support himself and his younger sister since his mother's recent death. The fund would pay for transportation and schooling for his sister, who has never had formal education.
The duo is not starry-eyed; they're concerned about overextending and overcommitting.
"Right now, we can only handle one project at a time," says Callahan. "Once we start growing, working with more partners, we'll be able to juggle more. But we're at a good pace for us right now; we're accomplishing what we want."
"At this point," says Snow, "we want to see where this road takes us."
For more information about Achieve in Africa, visit its Web site or Snow's blog.
Devon Maloney can be reached at devon.maloney@gmail.com.