Here Comes Harborfest
City-wide festivities add days to the holiday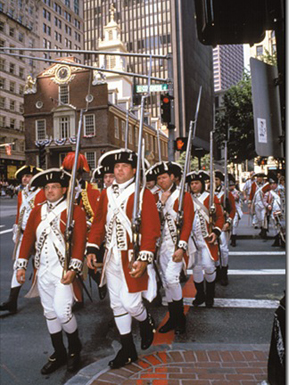 Boston becomes even more patriotic than usual this week with Harborfest, a sprawling celebration that uses the Fourth of July as a good reason to showcase the city's attractions.
Harborfest offers more than 200 events arranged over six days, including historical reenactments, walking tours, sunset harbor cruises, food tastings, and concerts.
Today is Children's Day at Boston City Hall Plaza. The brick expanse fills with booths from the U.S.S. Constitution Museum, Historic New England, and the New England Aquarium. Jugglers and musicians add color, as do lots of balloons.
Looking for more mature offerings? Take a tour of the State House, kayak the Boston Harbor Islands, or listen to Paul Revere recount his life story in the Old North Church.
Also worth mentioning is the 28th annual Chowderfest in City Hall Plaza on Saturday. The competition draws local restaurants like the Algonquin Club, the Yankee Lobster Fish Market, and Parker's Restaurant to duke it out — or should we say ladle it out — for bragging rights as Boston's best clam chowder venue. Over 2000 gallons will be available for tasting; tickets are $10 for adults and $7 for children under 12. Our prediction: the less flour in the chowder, the better the chances to win.
Harborfest activities are taking place all over Boston this week, so be sure to read the full schedule of events.
Amy Laskowski can be reached at amlaskow@bu.edu.