Gifts from the Dead
Exploring the anatomy lab on the Medical Campus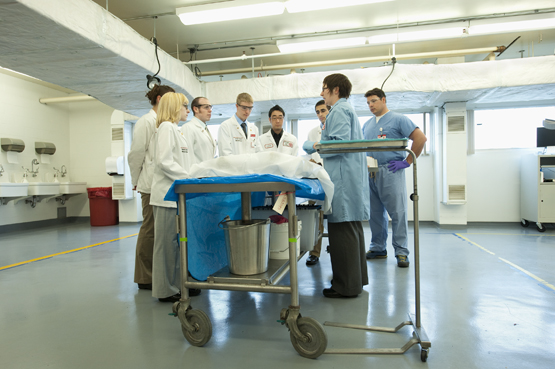 The head had been severed from the body and split down the middle. One half lay on a blue tray, a petite Japanese woman's face, blank eyes, small ears. She died 11 months ago, at age 81. Her neck was gone except for the trachea and esophagus, narrow ropes of twisted muscle pierced with colored pins. The smell of formaldehyde was so strong I could taste it.
Bill Pearson (MED'10) was taking measurements in one corner of the School of Medicine's anatomy lab for his dissertation on dysphagia — the inability to swallow — which can afflict stroke victims, Parkinson's sufferers, and head and neck cancer patients. He was analyzing how muscles pull and with what force. As he spoke, I wondered, who was this woman? What would she think of being cut up like this? But she's obviously beyond caring, so why am I asking?
When lab manager Rob Bouchie (SMG'92), head of BU's willed body program, invited me to observe a prosection, a demonstration on a dissected cadaver for OB/GYN students, performed by anatomy instructor Ann Zumwalt, I was nervous. The last dead body I had encountered was at a funeral several years ago, neatly dressed and serene. I wondered if I should eat before my visit and whether I should wear clothes I didn't mind ruining. And would deep knee bends help me stay on my feet?
I'd met Bouchie and Zumwalt in the 10th floor lab of the Medical Campus' Instructional Building, hardly the tiled basement room with sticky floor drains you see on TV. The place was spacious and impeccably clean, with rows of stainless steel tables. More than a dozen large windows revealed a carpet of rooftops with Commercial Point in the distance. Bouchie told me that the air in the lab is changed several times an hour and spritzed with deodorizer to help avoid adverse reactions.
Zumwalt brought me over to the body, or donor, as most people here call the cadavers, that she planned to demonstrate on. I took a deep breath, reassuring myself that I'd survived a visit to Body Worlds, a traveling exhibition of preserved human bodies and body parts prepared using a technique called plastination. But there the bodies are stripped of skin, wearing suits of muscle and tissue, their organs intact. They're devoid of personality other than the poses the curators put them in: kicking a soccer ball, swinging a tennis racket, doing yoga.
On a blue plastic sheet on the table in front of me lay a 93-year-old woman, her pelvis and torso split open and thick yellowed skin peeled back, revealing to my untrained eye a heap of brown and beige innards — rendered that color, Zumwalt explained, by a lack of blood. Bodies donated to BU are embalmed by Bouchie within 24 hours of death and then stored. This head had been hemisected, the brain removed. The lungs and thorax, too, were gone. The woman died last year of cardiovascular disease. She had been used by fourth-year clinical anatomy students as well as dental students.
The OB/GYN students soon showed up in white coats. They donned goggles and gathered around the body, not the slightest bit fazed by the scene, paying close attention to Zumwalt's intimate tour of the female pelvis and asking questions. She peeled back parts and lifted others with forceps, pointing out the uterus, the bladder, the broad ligament, the ovaries, the Sampson artery, the uterine artery. She explained how to clamp off blood flow during a hysterectomy and how to anesthetize.
"The lab is our lifeblood," Zumwalt later said, with no trace of irony.
BU receives around 40 bodies a year and has more than 2,400 donors listed on the registry. Bouchie would like to have more, but this is not a matter for aggressive marketing, knocking on doors or staking out nursing homes. He carefully spreads the word and then has to wait, first for donors to sign up and then for their passing. He knows the public is still hazy on body donation. Organ donation definitely has a better publicist — the direct connection from one human being to another helps, the possibility a life may be saved or improved, plus the body stays intact and can be interred in a timely fashion. Full body donation is more abstract. And there are stories of abuse or disrespect, most of them untrue (although UCLA temporarily suspended its willed body program after the director was caught, and eventually convicted, in an embezzlement and conspiracy scheme to sell body parts to pharmaceutical and medical research companies). Part of Bouchie's mission is to improve the image of his life's work. For him, body donation is a high calling, worthy of the utmost respect.
"Whole body donation is a wonderful gift, immeasurably appreciated by the University," he says. "Without the whole body, modern medicine would take a step back. I have never heard second-, third-, even fourth-hand tales regarding any inappropriate student behavior towards a donor at any U.S. college or university. Anyone who has gone through the rigors of becoming a medical student has too much at stake to cross any inappropriate line. In my lab, each donor is cared for as if they are extensions of our own families. If students don't buy into this philosophy, they don't learn in my lab."
Bouchie helps students orchestrate a memorial service to honor donors and their loved ones at the end of the gross anatomy course, and he insists on an in-lab ceremony as well. The day after my visit, both the 81-year-old woman and the 93-year-old woman were placed in pine boxes for cremation. Students and faculty put notes of thanks and personal reflections in with them before Bouchie hammered down the coffin lids. He will spend much of the coming weeks on the road, hand-delivering cremains to families, thanking them and answering questions.
Returning to my office after the visit, I asked coworkers whether they would consider donating their bodies. Most said they were organ donors — in other words, they already had plans that day. Some talked about religious implications: devout Jews and Muslims don't permit dissection or desecration of the body, or cremation for that matter. Another colleague didn't like the thought of her body being cut up. "I've spent so long taking care of it," she said. When the question was turned back on me, I was noncommittal. "I've definitely softened on the idea," I said.
It's as if many of us can't let go of our bodies. We've been together so long, it's hard to imagine being pried apart. With organ donation, we're still intact, skipping into afterlife holding hands with ourselves. But without the shell, we must consider ourselves as spirits or souls, and that leads to heavy questions: where do those souls or spirits go? Do they simply extinguish? Where did they come from in the first place? And then, of course, there's vanity. Do I want a bunch of students cutting and probing my naked body? I've still got a paunch I want to get rid of. I have some seriously funny-looking toes, too. And does death cause shrinkage?
Longtime BU photographer Kalman Zabarsky (CFA'69) is free of such qualms. He joined me at the lab to shoot photos and afterwards filled out the official paperwork bequeathing his mortal remains to Bouchie, having thought about it for years.
"Once the brain stops and the memories are gone and the essence of who you are and what you were is gone, the dead cells are just material, like a dried-up blade of grass or a dead animal," Kal said. "Anything that's useful or helpful, like donated organs or someone learning something or doing a surgery easier, there's more continuum. You've achieved something that is probably priceless. It's becoming something more than fertilizer."
I envied his clarity, his enlightened thought, even his devotion to his alma mater and employer. Watching Zumwalt and her students gathered around the remains of the 93-year-old woman, the impact of the gift became clear. One body teaches eight future doctors, who treat thousands of patients to the relief of millions of loved ones. Suddenly, there was no doubt where our spirits reside: in the ripples.
Caleb Daniloff can be reached at cdanilof@bu.edu.