Getting to Know Your Neighborhood: Davis Square
Eating, shopping, and hanging out in one of the 10 hippest places in America
The city of Somerville has undergone a major transformation in the past 35 years. It was once a strictly blue-collar community of triple-deckers, but housing prices have soared, especially with plans for an extension of the MBTA Green Line. Nowhere are its changing fortunes more apparent than in Davis Square, in the northwest section. The square abuts the Powder House Square, Magoun Square, and Spring Hill neighborhoods and is a stone's throw from Tufts University. Easily accessible on the Red Line, Davis Square is one of the city's most vibrant neighborhoods, filled with sleek bars, restaurants offering every imaginable cuisine, and a thriving cultural scene.
Some residents trace (or lament) the transformation to a 1997 Utne Reader article anointing Davis Square as one of the 10 hippest places in America. Others go back further, to the 1984 opening of the T station. Historians might flip all the way to 1850, when wealthy grain dealer Preston Davis first strode into town and built an estate near the intersection of Elm and Grove.
No matter where on the timeline your finger stops, Davis Square—fed by five asphalt tributaries—is now a crackling ball of artistic, entrepreneurial, and culinary energy, with a blend of mom-and-pops, hip eateries, quirky shops, public art, one of the area's oldest movie theaters, and a pulsating nightlife. Consider taking the T, especially if you're going on a weekend. Parking is scarce.
Formerly a diner, this neighborhood landmark was revamped in 2014 by restaurateur Joe Cassinelli, who created a new atmosphere and a menu featuring comfort food from across the country. While still offering its famous seasonal home-style pies (the banana toffee is excellent), dishes like Moroccan stew, BBQ Baconator meatloaf, jambalaya, and whole roasted hog heads with gochujang barbecue sauce are now offered, courtesy of chef-partner John Delpha. The bar combines old and new, classics like mint juleps with creative cocktails like the Lunch Car #773, a tribute to the old Rosebud. It's open for dinner daily, but the bar opens early on Friday afternoons. There's also a popular weekend brunch.
Posto
187 Elm St.
This wood-fired Italian restaurant's classic Italian fare includes handmade pasta, pizzas, grilled meats, fish, poultry, and a variety of desserts. Menu favorites: bruschetta with roasted grape tomatoes, goat cheese, basil, and vincotto and gnocchi with braised beef short ribs in a red wine sauce. Dishes are prepared with Posto's own fiore di latte mozzarella cheese, made fresh daily. The wood-burning oven makes for a cozy setting in winter, and in warm weather, the glass doors open onto the sidewalk and diners can eat outside.
For large portions of Italian-style seafood dishes at reasonable prices in a relaxed atmosphere, choose this eatery. Its most popular dishes are fried scallops with french fries, onion rings, and coleslaw, baked stuffed lobster with sea scallops and a Ritz cracker filling, and frutte di mare, mixed seafood served over linguine in either a red, white, or fra diavolo sauce. Free parking behind the restaurant is a big plus given the area's parking shortage.
This gem celebrates the diverse cuisines of Latin America, with more than 100 craft tequilas (try the Spicy El Diablo, with jalapeño-infused tequila). Its seasonal menu has a modern twist on traditional Mexican street-style food. Chow down on an all-beef pearl dog topped with cabbage and jalapeño slaw, chicharrón, chipotle ketchup, and agave mustard on a grilled roll or one of the 10 innovative taco choices, like the short rib "double stack," with crunchy and soft tortillas, tres quesos, red wine, Mexican cola mole, cotija, and shredded napa cabbage. It's also great for a weekend brunch (like thick-cut French toast with caramelized plantains and a morning taco plate). There are weekly events, like Burro Karaoke on Tuesdays.
Sligo Pub
237 Elm St.
Sligo proclaims that it's the "last dive bar in Somerville." It's cramped, the tables can be sticky, and it sometimes smells of stale beer, but the drinks are cheap and the bartenders are among the friendliest in the neighborhood. Some tips from the regulars: Sligo doesn't serve food, and the bar is cash only.
"Cash for fashion!" advertises this store, where clothing and accessories can be bought, sold, and traded. It's like a Goodwill store, but more selective; be prepared for your offerings to be scrutinized—less-desirable items wind up in the reject pile. You can choose cash or trade for items in the store, which has men's and women's clothing for all seasons and an array of shoes, boots, jewelry, sunglasses, and other accessories.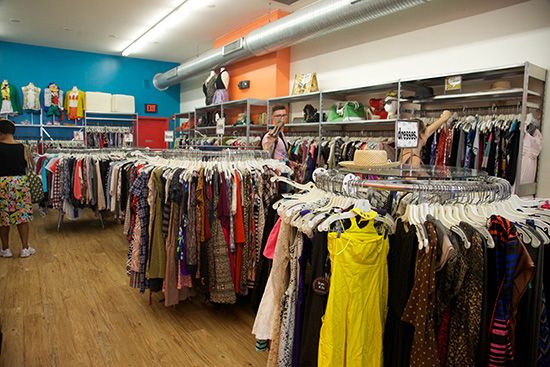 Meju Korean Kitchen
243 Elm St.
"Meju" refers to fermented soybeans, the umami flavor found in this Korean restaurant's soy-marinated short rib galbi and other dishes. It offers both classic and modern takes on Korean cuisine. The mix-and-match Korean tapas, like the spicy pork buns, are delicious. For a heartier meal, try one of the larger plates, like the shrimp noodles. The bar has a number of hard-to-find Korean spirits, like Bekseju and Bokbunja.
Named for a bleak, scarred limestone plateau in County Clare, Ireland, the bar offers live Irish music—folk, jazz, and traditional songs—seven nights a week, along with Stump trivia, open mic, and comedy. You'll find 17 beers on tap and lots of bottled beers, wine, and cider (no mixed drinks are served). The menu has typical bar food, as well as authentic Irish dishes, like bangers and mash, Guinness beef stew, and at brunch, a full Irish breakfast with rashers, Irish sausage, black and white pudding, grilled tomato, and Irish baked beans, served with Irish brown bread.
Since the chain's Kenmore Square spot closed in 2017, this is now the only place in New England where you can still get your Amsterdam Falafel fix. Your order is guaranteed to come in two to five minutes, and you can see it fried right before your eyes. With 22 sauce and topping options, choices can be tough. (Hint: you can't go wrong with the yogurt-dill sauce or the fried eggplant.) Inspired by similar shops throughout the Netherlands, evidenced by the walls' Dutch concert posters and painted tulips, the place is addictive—great for a quick lunch or a late-night snack. Choose between a falafel sandwich or bowl (the latter priced by weight). Don't leave without tasting the twice-fried Dutch fries.
Formerly Jimmy Tingle's Off Broadway Theater and later the Davis Square Theatre, the reminted Rockwell hosts music, theater, and comedy performances, most catering to the 21+ crowd, although it has family-friendly shows as well. Programs range from family favorite Kerplunk! to the decidedly adult Shit-faced Shakespeare. The 200-seat basement theater has a full bar and if you're hungry after the show, you can grab a bite to eat upstairs at the Foundry on Elm. Find tickets and show information here.
This underground venue, recalling Prohibition-era speakeasies, is known for its extensive drink menu: 120 different whiskies, as well as red and white wines, local craft beer, and craft cocktails like the Cask of Amontillado—a concoction of rye, Meletti Amaro, Amontillado sherry, cacao, and pimento. The dinner menu has appetizers like poutine with hand-cut potato wedges, garlic cheese curds, and applewood-smoked bacon gravy and entrées like pan-roasted salmon with roasted cauliflower, smoked bacon, parsnip puree, and an apple-pistachio herb salad.
The seating here goes back as far as the eye can see. Tables, vinyl booths, and bar seating of reclaimed wood suggest an earth-friendly place to pop the laptop or crack a paperback over a cup of direct trade joe. It offers a large selection of loose teas, specialty drinks (try the Tuck's Turtle—16 ounces of hot chocolate, hazelnut, and house-made caramel topped with fresh whipped cream), salads, baked goods, and vegan, vegetarian, and the usual sandwiches. All pastries and breads are baked just down the road at the café's Forge Baking Company. The staff is friendly, and some will draw flowers in the foam on your latte. Break a few racks on the red-felt pool tables or get cozy with a friend in the vintage photo booth. The garage door–style front rolls up in good weather to let in the sidewalk vibe. Wi-Fi is available, albeit for a fee after 45 minutes.
This izakaya (informal Japanese gastropub) has gained a loyal following since opening in 2016. The interior features lots of clean wood, a blue-and-white-mosaic-tiled bar, and rustic Japanese-style serving dishes. The soba noodles served hot or cold, with bonito broth, are made in-house. The uni soba, topped with raw sea urchin and ikura, or salmon roe, is all the rage, but don't pass over the non-noodle dishes. Appetizers, like the homemade zaru tofu, soft-shell crab tempura, and harami angus rib-eye yakitori, are all delicious. The prices are reasonable, and there's a rotating list of specials.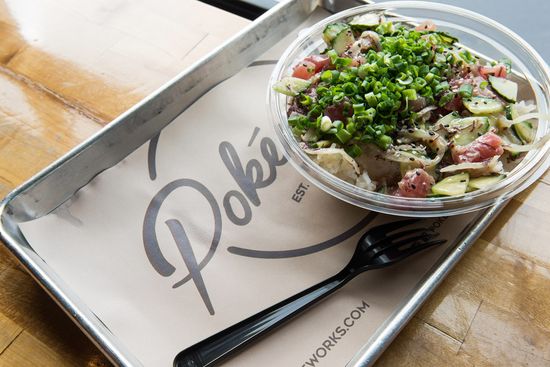 If you're looking for something different, Pokéworks is a must. As its name suggests, the chain specializes in poké, the popular Hawaiian raw fish salad. Choose your base (bowl, burrito, or salad), pick your protein (Atlantic salmon, albacore or ahi tuna, shrimp and scallops, chicken, or tofu), then add in mix-ins (from diced mango to edamame to seaweed). Next, select from one of eight sauces, then add toppings and crunch (garlic crisps, lotus chips, macadamia nuts, etc.), and voila, you have a delicious fresh meal. Order one of the restaurant's classics—like the Hawaiian Classic, Umamu Classic, or Spicy Ahi. Another Pokéworks is set to open in Harvard Square in the coming months.
BBQ, beers, and bikes—that about sums up the Redbones creed. Gems from the extensive menu include catfish or rib combos, corn fritters, and hush puppies. For sides, choose from collard greens, dirty rice, mac 'n' cheese, and potato salad, to name just a few. Wash it all down with one of the 29 beers on tap, many from local microbreweries, or an iced tea from a large sweat-beaded mason jar. The Southern back-home feel is enhanced by photos of barbecue glory days and autographed pics of R&B greats. Counter seats at the open kitchen offer a front-row view of the pit master's crew in action, or you can nosh at the bar adjoining the dining room. Head downstairs to Underbones for a darker tavern version. Brunch on Sunday comes with a helping of live bluegrass music.
Davis Square Somerville Farmers Market
Corner of Day and Herbert Streets, across from 
Flatbread Company at 

Sacco's Bowl Haven

Visit the farmers market on Wednesday afternoons, rain or shine, between late May and late November. You'll find local produce, baked goods and breads, honey, meats, maple syrup, seafood, and wine, as well as cut flowers and plants. There are even skin-care products and hand-knit baby clothes for sale.
When Flatbread Pizza Company took over Sacco's Bowl Haven, a Somerville institution since 1939, there was much local angst. But Flatbread has not only retained, but also invigorated the old-school candlepin bowling alley. (Candlepin is something of a New England specialty, using smaller balls and pins than 10-pin bowling.) The renovated space has 10 lanes. Shoe rental is $3 a pair and a lane is $30 an hour. After slipping back into your street shoes, grab a table and enjoy some food. Suggestions: Homemade Sausage flatbread (maple-fennel sausage, sundried tomatoes, caramelized onions, mushrooms, and whole milk mozzarella) or any of the organic salads. Words to the wise: the airy crust means that two people can easily split one pizza, and sitting too close to the brick oven may be a tad uncomfortable. There's a full bar and you'll want to save room for dessert—Sarah's Chocolate Chip Banana Bread Sundae is recommended.
Stop in this sleek, hip coffee bar for a morning latte or cappuccino, and you'll find traditional café items—coffee drinks, teas, and pastries (courtesy of Danish Pastry House)—and more unique alternatives like nitro-poured cold-brewed coffee. It offers a small but tasty lineup of breakfast items, including avocado toast, oatmeal, and bagels, and sandwiches made with artisanal breads from Iggy's Bakery. Seating is limited, so be prepared to take your food to go.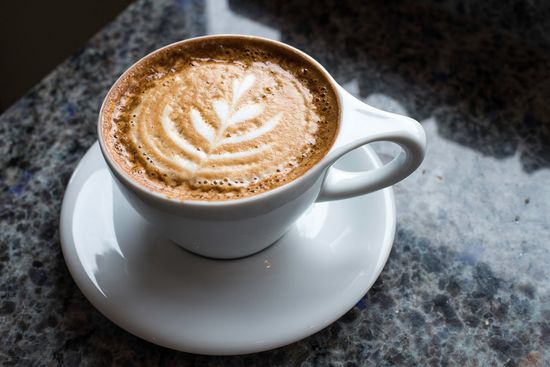 Music, trivia, sports, and good food are on tap here. The place hosts Trivia Wednesdays, karaoke, and live music and broadcasts all Red Sox, Bruins, Celtics, and Patriots games on 14 HD screens. The bar offers 20 rotating taps of seasonal craft beers and a variety of wines and seasonal cocktails. On the dinner menu are salads, nachos, tacos, burgers, sandwiches, artisan pizzas, and entrées like shepherd's pie and steak tips. At the popular brunch on weekends, you can build your own Bloody Mary.
Frustrated by the lack of places carrying merchandise needed to make exotic concoctions, cocktail enthusiast Adam Lantheaume opened one, and it sells most anything a professional bartender or someone throwing a first cocktail party may need: barware, ceramic tiki mugs, bitters and flavorings, recipe books, and more. Who knew you needed a mini angled measuring cup for the perfect pour or a professional ice-crushing bag? Those bitten by the cocktail bug can find classes and workshops here.
David Jick's pasta, cheese, and wine shop expanded a while back and now carries fresh local produce, beef, fish, and wine and beer. Known for its handmade pasta, ravioli, and sauces, the market/takeout restaurant also sells breads, baked goods, and more than 300 different cheeses: from Cotswold to goat Brie to Reblochon. The sandwiches alone are worth a trip. Try the Cubano, the prosciutto and fig, or after a particularly rough night, the Brazilian Hangover Helper (mortadella, provolone picante, red onion, dill pickle, hot peppers, and mayo), a concoction the staff says "works better than anything else" if you've overindulged the night before. A few indoor and outdoor seats are available, but they fill up quickly. Dave's also offers cooking classes and special after-hours events.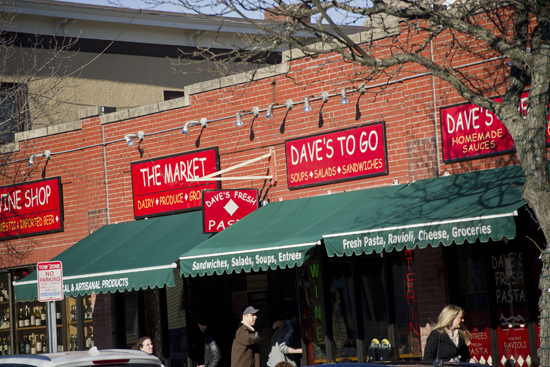 There's nothing pretentious about this casual Tex-Mex restaurant and tequila bar serving up refreshing margaritas (40-plus tequila varieties) and tasty fish tacos. And really, with those staples, what more do you need? Oh, right. Fresh tortilla chips and queso, a customer favorite. You'll find a great selection of Tex-Mex combo plates, burritos, and enchiladas. Rudy's is technically in Teele Square, but it's just a five-minute walk from the heart of Davis Square. Head down Holland Street and look for a large mural of a cactus-filled desert.
Spoke has a focus on wine, food, and hospitality and serves "New-American small plates with the help of farmers and friends." You'll find unique dishes, such as smoked butter bean dip and chicory salad—served with parmesan-lime vinaigrette, goji berry, and kumquat—or if you're in the mood for something heartier, try the smoked octopus gargati, with cerignola olives, and green tomato marinara. In addition to its extensive wine list, there's an eclectic cocktail list. Try the Brookline—cognac, rye, chartreuse, and vermouth. Make a reservation here or by calling.
This wonderful Mexican restaurant offers a full slate of enchiladas, burritos, tacos, and tortas, a type of Mexican pressed sandwich. It also has two food trucks, El Jarocho and Tenoch Movil. Note: the restaurant does not serve wine or liquor.
The only downside here: too many delicious options. You'll be hard-pressed to get past the appetizers, which include seasoned buttermilk-fried chicken tenders with a red dragon chili sauce, and cast-iron cornbread with honey butter. On the main menu are several unique options, among them French Kiss pizza (apple, Brie, and balsamic pizza with arugula puree and candied walnuts), a duck burrito, and pork belly tacos. And we haven't gotten to the beer yet: 40 rotating drafts and more than 60 bottled beers—a mounted chandelier is made from various beer taps. The weekend brunch is popular: the Good Morning Davis, a three-egg omelet with spinach, mushrooms, roasted red peppers, and cheddar, is served with home fries. The house apple-cinnamon donut holes are irresistible, too.
Comicazi
407 Highland Ave.
Offering vintage toys, graphic novels, and a gaming area in the back room, this store provides an escape for the comic book lover and the child at heart. Besides kids' activities, it hosts game nights, manga, and sci-fi book clubs, a Pokémon league, and a 21+ "drink and draw" event. Comicazi has been voted Boston's Best Comic Book store every year since 2010, and was named one of the Top 25 Comic Book Stores in the United States by Travel & Leisure in 2017. It also manages a YouTube Channel, a gallery of artists' work, and an independent publishing division, Bad Kids Press.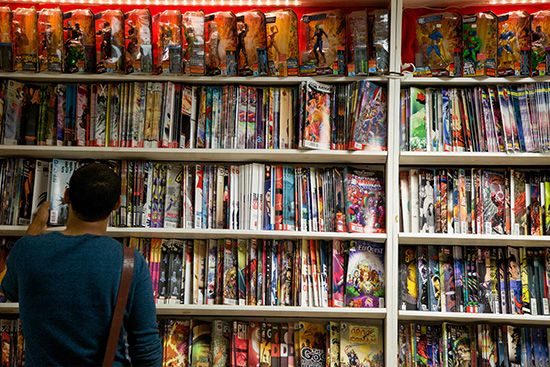 This small gift shop on the quieter side of the square sells fun and witty gifts for adults, children, and the home. Independently owned, it has unique and handcrafted items like jewelry, prints, toys, chocolate, local honey, shea butter soap, and knitwear. There's an especially good selection of cookbooks and gardening books as well.
Magpie
314 Highland Ave.
This independently owned gift shop offers "shiny things for your nest" or for someone else's—if you need to find a housewarming gift, look here. Featuring handmade craft and indie design products by local and regional artists, the store has jewelry, art, cards, stationery, housewares, baby items, and more. Among the finds: brass and copper earrings from Boston-based Glamourpuss Creations, whose materials are sourced from shuttered factories throughout the Northeast.
Fresh-baked bread, bruschetta, pizza, and cannoli await at this Italian market and restaurant, with its old Italian neighborhood feel and authentic home-cooked dishes like gnocchi, meatballs, and eggplant parmigiana, and an impressive selection of Italian cheeses, charcuterie, and Italian desserts. The personable staff makes an effort to know customers, and you'll find regulars chatting in Italian. Grab a seat on the patio in good weather for some fresh air and people-watching. Pepe's also offers bread-, pizza-, and gnocchi-making classes.
Want a quick, inexpensive bite before a show at the Somerville Theatre? There is quite a choice here, from meat lasagna to a chicken parm calzone to a Gorgonzola and walnut salad. There are more than two dozen specialty pizzas, as well as burgers, wraps, and fried seafood dishes. Best of all is the cheap beer—available in a bucket—from Geary's London Porter to Sierra Nevada Torpedo. Service is a little gruff, but it's fast.
This burger joint, with two others around the Boston area and two more coming soon, offers 30 types of creative eight-ounce certified Angus beef burgers, like the Waikiki Beach Burger (grilled pineapple, ham, bacon, and teriyaki), the Bruschetta Burger (tomatoes, provolone, basil, and pesto mayonnaise), and the Mac Attack (topped with homemade four-cheese macaroni and sizzling bacon), which was featured on Guy Fieri's Diners, Drive-Ins and Dives. Not in the mood for beef? There's also a veggie burger, a conch burger, chicken sandwiches, boneless wings, chowder, chili, and 13 types of fries. Potato chips, fried pickles, sauces, and dressings are all handmade. You'll want to save room for one of the frappes as well. BBC also offers a great list of craft beers.
This crêperie and café offers breakfast and lunch fare, with crêpe fillings from smoked ham to roasted mushrooms to fresh sliced apples, grapes, and Brie. There are also gourmet sweet crêpes (can't beat the Nutella classic), teas, coffees, soups, salads, and pastries. The large glass windows look out on the square's center and offer prime people-watching. Be careful not to exceed the 30-minute weekend and lunch table limit for non-crêpe eaters.
Beer and wine. Real butter on your popcorn. Cheap tickets. U2. What more could you ask from a movie theater? Built in 1914 (stage and screen legend Tallulah Bankhead was once a member of the Somerville Theatre Players), there are five screens for new films and the occasional second-run movie. The theater also hosts long-running productions like The Slutcracker and film festivals like the Boston Sci-Fi Festival. Night owls can opt for the midnight movies. Matinee tickets (before 6 pm) are $7, and regular-price tickets are still a bargain at $10. The venerable venue also pulls in such music acts as U2, who played a surprise show and did a Q&A at the 900-seat venue in 2009. While you're waiting for the show to start, check out the Museum of Bad Art (free admission with a movie ticket) in the theater's basement.
"Boston's first oatmeal café," Oat Shop serves up oatmeal bowls in a small but intimate café setting. You'll find sweet as well as savory oatmeal, from the Almond Joy, topped with toasted coconut, slivered almonds, and chocolate coconut sauce, to the Sriracha Fried Egg, with cashew butter, soy sauce, and sriracha sauce, topped with a fried egg. You can also build your own bowl, and wash it all down with one of Oat Shop's delicious coffee or espresso drinks.
Somerville Community Path/Minuteman Bikeway
Access behind the Davis T station
The bikeway is great for year-round, traffic-free recreation (strap on skis in winter). From Davis Square to the Alewife station at the end of the Red Line (0.8 miles), it's part of the Somerville Community Path. At Alewife, it becomes the 11-mile Minuteman Bikeway, which runs to Bedford, snaking along an old railbed and past Revolutionary War sites. Eventually, the path will be the final link in the Massachusetts Central Rail Trail, which will extend 104 miles along a former rail line from Boston to Northampton.
Getting there: Parking is tight, especially evenings and weekends, so driving is not recommended. But the T will drop you smack in the heart of the action: take the Green Line inbound, change at Park Street to the Red Line outbound to Alewife, and get off at Davis Square. By bus: pick up the #47 bus at the BU Bridge, take it to Green and Magazine Streets, and hop on the Red Line outbound (Alewife) at Central Square.

Click on the points in the map above for more information on the places listed in our guide to the Davis Square area.
Check out our Davis Square list on Foursquare for more neighborhood tips.
This story originally ran August 24, 2009; it has been updated to include new locations and current information.
This Series
Also in
February 20, 2020

January 13, 2020

November 15, 2019