Why Poland Is Afraid of Feminism
Author Agnieszka Graff on women's rights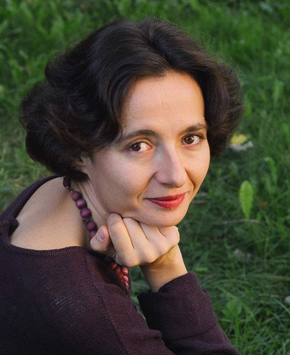 For Polish writer and feminist Agnieszka Graff, an illustration published a few years back in a conservative Polish weekly depicting a woman nursing a grown man says it all. "It's a disturbing image about the supposed domination of women in Poland," says Graff, an assistant professor at the Center for American Studies at the University of Warsaw. Since the former communist country joined the European Union in 2004, she says, the Polish media have reflected the widespread anxiety about the role of women in society. Contrary to some expectations, the collapse of the communist regime in 1989 and the economic and political freedoms that followed did not signal a new era for women's rights. In fact, a return to traditional female roles became the push in Polish political discourse.
As part of the BU Institute for Human Sciences Getting to Know the European Union series, Graff, an Amherst College and Oxford University graduate and author of the 2001 book World Without Women, will speak at BU this evening about the impact that Poland's integration into the EU has had on gender identity, as reflected in Polish popular culture. BU Today spoke recently with Graff about the issue.
BU Today: How would you characterize the lives of women in Poland today?
Graff: It depends on class, region, and age. One can say that it's a very family-oriented society and most women's lives are family-focused. But many women also work full-time. The stay-at-home-mom model is economically out of reach, and we have a strikingly high number of women who are self-employed. There is a strong sense that women are resourceful, that they have to be strong because the survival of their families depends on them, and that they need and want to sacrifice their own aims for others. Polish sociologist Miroslawa Marody calls this model "brave victim."
In general, Poland is not that different from France or Germany in terms of what people believe about gender. Where we differ is in the way women's issues function in political discourse. They are viewed with suspicion as a foreign import, something supposedly threatening Poland's traditional culture. One key element of this puzzle — due to the political influence of the Roman Catholic Church — is that Poland has one of the most restrictive abortion laws in Europe, and as a result, a huge abortion underground. With Poland an EU member since 2004, women increasingly travel abroad to have abortions.
Wasn't the collapse of communism supposed to open up all kinds of freedoms, including greater freedom for women? What happened?
The word used in a lot of gender research in Eastern Europe after 1989 is "retraditionalization." As citizens, women shared the general euphoria about new freedoms and democracy. But as women, they experienced economic and political marginalization, even scapegoating. Within a few years, women were shown their place — pushed out of positions of power, deprived of many social services, discriminated against at work, often quite brutally. The public sphere was rapidly masculinized. One scholar, Kornelia Slavova, has argued that this is due to Eastern Europe being both too late and too early for feminism. Under communism, it was redundant because it appeared bourgeois. Today, feminism is a dirty word because, Slavova writes, it "smacks of Leninism, Bolshevism, and Marxism."
What is women's role in Polish political life?
There are a few highly visible and even charismatic women, but they are a tiny minority: "raisins," we call them. The cake is male. It's always a sad spectacle to watch women get marginalized during electoral campaigns. They are hushed up, pushed to the end of election lists, patronized by their colleagues. Last year, there was an effort to build a women's party, led by a well-known writer named Manuela Gretkowska. It failed in elections, but it mobilized a lot of women. Then there are "political" women who function outside the party system — activists, commentators, public intellectuals. Increasingly, I think, we are treated seriously, even sought after. This includes feminists such as myself. But again — if you turn on the TV to watch a debate on politics, you're likely to see men arguing with men.
What has the media's role been in the development or stifling of women's rights in Poland?
That's a huge question — I wrote two books about it. In general, I can say that Polish media adore the message of backlash. Too much equality is bad for your health. Feminism hurts women. Feminism is dead. Men and women are a different species. Women really want to be dominated. And so on, at a dizzying intensity. But of course, this is not the whole story. A new generation of equality-conscious journalists is now at large, and increasingly there are journals, radio stations, and even TV programs that are progressive, pro-woman, antihomophobic.
What differences do you see between feminism in Poland and in America?
I see few similarities. American feminism is nostalgic about its own history. Women's liberation is largely associated with radical history. Betty Friedan, Gloria Steinem — the household names are either gone or aging. Polish feminism is largely a post-1989 phenomenon. It's younger, with a sense of urgency and mission. Also, the third wave in the United States seems to be focused on the issue of racial and ethnic diversity, in rethinking feminism's own past limitations. Poland is an ethnically homogeneous society — we may have to face these issues soon if the wave of immigration hits Poland, but it's not here yet. And finally — a huge difference — the state of reproductive rights. American women today take Roe v. Wade for granted. We have no such luxury. To us the movie Juno is a utopian fairy tale. A pregnant teenager in Poland has no choice, at least not legally.
What message do you want students, female and male, to walk away with tonight?
That "gender" doesn't happen in a vacuum. It's not just about men and women, roles, or stereotypes. It's linked in complicated ways to politics, national history, economic processes. In times of crisis and anxiety, people tend to yearn for a traditional arrangement between the sexes. Women are associated with stability, the past, tradition. When collective identity is in trouble, they're forced to take up the role of bearers of culture, often against their will. But I am not a moralist or a preacher. My purpose is not to deliver a "message," but to present some ideas I find intriguing and make people think in ways they have perhaps not thought before.
Our Innocence, Foreign Perversions: Gender and Sexuality in Nationalist Discourse, a lecture in the Institute of Human Sciences series Getting to Know the European Union, takes place at 6:30 p.m. at the Kenmore Classroom Building, 565 Commonwealth Ave., Room 101. The event is free and open to the public.
Caleb Daniloff can be reached at cdanilof@bu.edu.