Terriers and Eagles Hit the Ice Tonight
Crosstown rivalry heats up 55th Beanpot final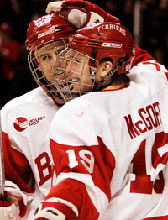 When the Boston University Terriers and the Boston College Eagles face off at the TD Banknorth Garden tonight, it will be their fourth meeting of the season. But any member of the Dog Pound, BU's official fan group, knows that the stakes are highest when the Beanpot is on the line.
"It's intense to be in such a big place and have so many people watching the teams," says Jeff Zucker (SMG'10), who bought season tickets at the start of his freshman year and arrives at every home game 90 minutes early to claim a seat in Section 118. "And I don't think there's any better matchup anywhere. This is the most exciting rivalry I've ever seen."
The Beanpot made its debut in 1952 and was originally intended as a filler that would keep the sports arenas open in the quiet weeks after Christmas. But a half-century later, it's the premier event of the Hub's hockey season, assuring the winning team a year's worth of citywide bragging rights. The final game sells out nearly every year, and odes have been written in praise of the tourney's invigorating effect on the dreary month of February.
The 55th Beanpot Tournament kicked off on Monday, February 5, when BU met Northeastern in the preliminary round. After a scoreless first period, Pete MacArthur (SED'08) grabbed a pass from Chris Higgins (CAS'09) and scored on Northeastern goalie Brad Thiessen. Just 48 seconds later, Kenny Roche (MET'07) took a breakaway all the way home, putting the Terriers, who have won 10 of the last 12 Beanpot championships, up 2-0. In the third period, Terrier Dan McGoff (CAS'08) pounded two more nails in the Huskies' coffin, and BU left the ice with a 4-0 win, for a berth in the final and an all-time Beanpot record of 79-30.
In the other first-round game, BC defeated Harvard 3-1. Tonight, in a repeat of last year's final pairing, the Commonwealth Avenue teams vie for the trophy. A victorious BU would take home its 28th Beanpot; a BC win would give the Eagles their 14th championship.
During the regular season, the Terriers (15-5-8) lost to BC (16-10-1) 1-0 in their first meeting at Agganis Arena, then defeated the Eagles 4-1 at Conte Forum, before giving up the last of the series 5-2 at home, making this year's rivalry as intense as ever.
"The fact that we have every school's fans there at the Beanpot creates a lot of positive tension, a lot of energy," says Zucker. "You never know what's going to happen between these two teams."
The Beanpot final is on Monday, February 12, at 8 p.m. at the TD Banknorth Garden.
Jessica Ullian can be reached at jullian@bu.edu.