Teaching the Teachers
CET's Alan Marscher steps down after years of promoting faculty excellence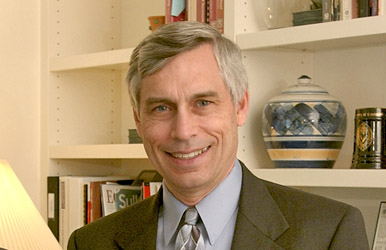 Alan Marscher, a College of Arts and Sciences professor of astronomy, has long understood that great teachers are made, not born. In 2000, while a CAS assistant dean, he served on the committee that established Boston University's Center for Excellence in Teaching (CET), which provides faculty with evaluations of their teaching, offers forums on issues such as plagiarism and workshops in teaching with new technologies, and organizes the annual orientation for new faculty. In 2003, Marscher became CET's academic director and then in 2004 its sole director. This week he officially steps down from the post.
"The idea in the beginning of CET was to keep rotating the faculty member who was director, so we could keep getting new ideas into the mix," says Marscher, who despite his tenure's official end will continue to direct the center at least through the summer to ensure a smooth transition for his successor.
Marscher has overseen a steady growth in CET's professional development offerings, particularly relating to teaching with technology, including using online resources. Recent CET workshops directed by faculty experts have included Learning and the Brain and Using Podcasts. Faculty can continue the discussions in greater detail via the center's online discussion forum.
In addition, Marscher has made CET one of the principal organizers of the annual new faculty orientation, two days of presentations and discussions about teaching, research, and career development that he describes as "our most important event of the year."
Marscher plans to take a sabbatical next spring to work with data coming from a new NASA satellite that will study gamma rays. As for CET's future, he says he would love to see its offerings become more institutionalized within the University, "so they could become part of a regular program of professional development" for both new and veteran faculty.
While CET's role as a technology facilitator has been growing, Marscher says, its core mission is to promote excellent teaching. He believes the next director should be somebody "who's fairly savvy about technology, but also somebody who is well versed in general teaching techniques that have nothing to do with technology."
University Provost David Campbell says Marscher has been "an enthusiastic and effective leader of CET." Campbell will soon appoint a small advisory committee to select Marscher's successor, and he encourages all members of the BU community to forward nominations to his office before June 1.
"Excellence in teaching is something that's taken very seriously at BU," Campbell says, "and the CET under Marscher's leadership has played a critical role in enhancing and promoting this excellence."
Chris Berdik can be reached at cberdik@bu.edu.