Taking Care of Business
SMG's CORE program gives students a taste of entrepreneurship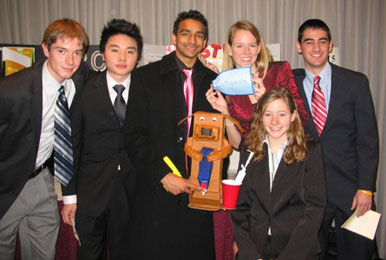 It may not appear on store shelves any time soon, but the Brushing Buddy could be James Pang's ticket to success. Developed by Pang (SMG'08) and six other School of Management juniors as the required project of SMG's Cross Functional Core program (officially known as SM323 and commonly known as Core), the Brushing Buddy is designed to encourage children to brush their teeth. Brushing Buddy is a molded plastic character that holds a tube of toothpaste and dispenses just the right amount of toothpaste on a child's toothbrush with the press of a button. It then plays a song for two minutes – the length of time dentists recommend children brush.
The highpoint of the program is the end-of-semester Core Showcase, a tradeshow-like event that invites all teams to display their results by demonstrating product prototypes, showing marketing materials, business plans and web sites which they developed for the new product development focused course.  From the 54 teams displaying at the Fall 2006 Showcase, Brushing Buddy, along with the Grab 'n Go dog collar and retractable dog leash were recognized by their a vote of their peers as the best product concepts.  The popular vote also recognized two other products: the Sphan, a portable fan that circulates air 360 degrees, as most likely to succeed; and the Adjustable Garden Stake System, whose stakes vary in height from four to seven feet to assist gardening aficionados, as best trade show booth.
The development of such innovative products is just one requirement of the 12-year-old Core program. All SM323 students must also take courses in marketing management, finance, operations management and information systems, but the product creation is generally considered the most grueling – and the most fun. To come up with a viable product, students must research the cost of producing and marketing, determine the market demand for the product, and conduct surveys and focus groups of potential customers. And while the work is often exhausting, with team members working up to 18-hour days as the semester closes, many students consider it one of the most rewarding experiences at SMG.
"It sharpens up your soft skills as well as your hard skills," says Pang, who is studying investment banking. "It's not just the textbook stuff. You learn a lot of about real-life."
Marketing professor Jonathan Hibbard says the Core program does exactly what it was intended to do: give students some real-world experience in product development, marketing and business operations, and illustrate how all parts of product development are interconnected.
"Students can link how an increase in marketing can affect the units they can sell and the profit they earn," says Hibbard.  "But they also learn that the marketing team will say, 'We want to increase advertising, and oh, by the way, it's going to cost another $600,000.' And the finance team will say, 'Are you out of your mind, we can't afford to spend another $600,000 on marketing.'"
Though students spend months developing their products and their plans, Hibbard says that the course is not designed for teams to actually get their product onto store shelves. Still, says Hibbard, the project often pays off in one important way.
"A lot of them use their plan in job interviews," he says. "Many companies know about Core, and many SMG alums come to recruit, so it's not unusual for someone to ask about a Core product. For most students, this is their most intensive course experience across their four years at SMG."
The next big event for the Core program is the SMG McGraw-Hill/Irwin SM323 New Product Challenge, in which Core faculty nominates projects for review by McGraw-Hill Irwin, publishers of Standard & Poors and BusinessWeek. The McGraw-Hill Irwin executives select three finalists who will present their plans on March 6 from 5 to 7 p.m. in the SMG auditorium. The winning team receives prizes and their product name on the SMG/McGraw-Hill Irwin Core New Product Challenge trophy.