Speed Demon
BU People: David Proctor breaks the four-minute mile and BU records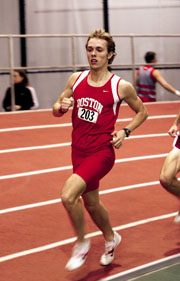 David Proctor lined up as a relative newbie in the mile run at the Terrier Invitational on January 27. He had run the race competitively in college just once — and last year at that. Yet there he was at the starting line alongside Max Smith of Providence College, owner of the mile record at Boston University's Track and Tennis Center, and Grant Robison, a former NCAA mile champion and a 2004 U.S. Olympian. When it was over, Proctor (SAR'08) had not only beaten his competitors, but had broken the four-minute mile (3:59.14) and a 25-year-old BU record.
Proctor's preferred distance had been 800 meters — half a mile. But after a solid-yet-unremarkable sophomore season, the lanky junior from Rochdale, England, wondered how he would do in the mile. Competing in his homeland last summer, he ran a 1,500-meter race on a whim. He covered the distance of nearly a mile in 3:49, which converts roughly to a 4:05 mile. The result got his mind moving as fast as his feet: with proper training, he thought, a four-minute mile — or better — was possible.
Proctor competed in cross-country in the fall to build his endurance. At first, track coach Bruce Lehane was leery about whether the new distance was best for him, but something in the budding star reassured him — attitude.
"David is an inspirational runner," Lehane says. "When he gets something into his mind, he can get an awful lot out of himself."
Teammate and friend Nick Goodman (CAS'07) says Proctor has an easygoing manner — except on the track, where he's focused and sure of himself. "One thing I've noticed about David is he's very, very confident," Goodman says. "If someone tells him he can't do something, he goes out to prove that he can. It's what makes him a great competitor and a great runner."
Proctor trained twice a day to prepare for the Terrier Invitational. He began each day with a 6:30 a.m. jog, cranking up his iPod to Bon Jovi, Aerosmith, and "cheesy pop" he's too embarrassed to divulge. In the afternoons, he either practiced with the team or went on another run.
"The extra running in the morning stretches my day out," Proctor says. "It is difficult, but I wouldn't change it for anything. I'm an athlete and that's what my life is, and I'm glad it's that way."
The amazing race
Still, on the day of the Terrier Invitational, Proctor wondered how he would measure up to the tough competition. Halfway through the big race, he trailed Smith and Robison, who were running at a four-minute-mile pace. With about 400 meters to go, Proctor was fourth, behind Smith, Robison, and Kenyan Abraham Ng'etich. Smith held the lead by keeping a brisk pace, a strategy that took its toll on a fading Robison. Proctor, harnessing the speed he had developed as a half-miler, made his charge. He passed Ng'etich and Robison, then passed Smith on the home straightaway just before the start of the last lap.
"I thought if I could beat him to the bend," Proctor says, "I could hold on to win."
Once he took the lead, he peeked at the clock and realized that if he could run the next 200 meters in 30 seconds, he would come in at four minutes. "Even then, I couldn't believe I was in that position," he says.
Neither could his coaches or teammates, red-faced from shouting encouragement. As Proctor came down the home stretch, he saw that he was going to do it — break the four-minute mile, Smith's facility record, and BU's 25-year-old school mark. Not bad for the first race of the season.
"After I crossed the line I was jumping up and down and screaming," he says. "It was at that point that I realized how loud the stadium was."
Goodman, just a few steps behind Proctor, finished in 4:03.13. He joined the mob of celebrating scarlet-clad teammates surrounding Proctor.
Proctor says he is just getting started. He expects to compete nationally for the United States and internationally for Great Britain. The Olympics are not out of the question.
"I feel like there is still more there," he says. "I am learning how to race the mile properly. I am ready to run faster."
This article will be published in the Spring 2007 edition of Bostonia.