Smart Moves for Entrepreneurs
New SMG institute reaches beyond B-school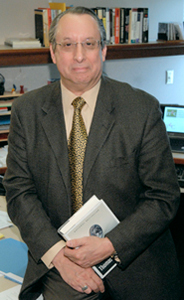 At a university as diverse as BU, some professors hope to transform their research into a product, and students often have an idea for the next big Web site. But they all need a plan before venturing into the business world. Now they can get entrepreneurial advice and mentoring at the School of Management's new Institute for Technology Entrepreneurship and Commercialization (ITEC).
"While we do research in the areas of technology commercialization, our mission is really to be a resource to faculty, students, and alumni who want to commercialize their ideas," says Peter Russo, an SMG professor and director of entrepreneurship programs at ITEC.
That means BU students interested in starting their own business can take electives in entrepreneurship, where they will learn about patents, intellectual property, the unique advantage of their idea, the number of people it would benefit, the potential market size, and the costs and investments needed to make the idea profitable, says Jonathan Rosen, an SMG lecturer in strategy and policy and ITEC executive director.
"Our programs emphasize the process of recognizing the potential for an idea to become a company," says Rosen. "We introduce students to how to analyze markets and their opportunities, and we help them evaluate a plan for providing sufficient funding to make their new companies sustainable."
Courses and mentoring through SMG's Entrepreneurial Management Institute (EMI), now part of ITEC, helped David Bergstein (ENG'07), a College of Engineering research associate, develop his business plan. "Engineering is a practical subject," he says. "Understanding how technology can be most commercially viable, what the market is really after, and what customers really want makes a big difference."
While completing his Ph.D. in electrical engineering, Bergstein worked with Selim Unlu, an ENG professor of electrical and computer engineering, on a new molecular detection system that would allow doctors to test a blood or urine sample for various diseases, such as STDs. Although he had no prior business experience, Bergstein thought there might be potential to commercialize his research. He attended daylong ITEC courses on understanding financial statements and managing a sales force, as well as networking events, where he made business contacts. He also won second place in last year's annual SMG $30K Business Plan Competition.
"On two occasions I've had my business plan reviewed by a class of management students, who provided a great deal of valuable feedback," says Bergstein. "Most important is the guidance that I've received from Pete Russo and other faculty who are a part of EMI and now ITEC." Bergstein is currently meeting with investors to fund a prototype of the diagnostic device.
While some ITEC courses are designed to help budding entrepreneurs like Bergstein write a business plan, others assume that students have already started a company and address potential problems, such as what should be done if a new company is outgrowing its management team and how to build a distribution channel to sell the new product.
The institute also organizes networking events with local business leaders and successful alumni, who often mentor through ITEC and judge business plan competitions. Students can also find internships at businesses established by alumni, says Rosen.
ITEC's partners include the ENG department of biomedical engineering, the School of Public Health, the Global Health Initiative, the School of Medicine, and the Office of Technology Development.
"We're based at the School of Management, but we plan to be a resource to the University community," Rosen says.

Catherine Santore can be reached at csantore@bu.edu.