Searching for Spring
Five ways to warm up the last days of winter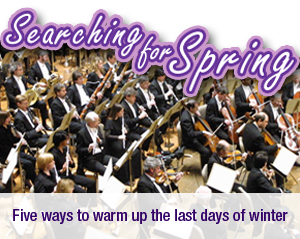 According to T. S. Eliot, April is the cruelest month, but March runs a close second. Temperatures continue to dip well below freezing, and college students know that a real spring break requires flight to warmer climates. All is not lost, however, for the unlucky masses who remain in Massachusetts. BU Today has found five ways to celebrate spring's impending arrival — even if the thermostat makes it hard to keep faith.
The Glass Flowers
Photo courtesy of the
Harvard Museum of
Natural History
If the browns and grays of late winter have been getting you down, head to Harvard, where flowers bloom all year round. The Glass Flowers, a permanent exhibition at the Harvard Museum of Natural History, contains more than 3,000 models of plants and flowers, all carefully crafted from glass, enamel, and wire. The collection was created by the German father-son team Leopold and Rudolph Blaschka, who spent five decades crafting the buds and blossoms to provide accurate models for botany students. These days, they provide chilly Bostonians with a dose of cheer during the darkest and coldest months. The sight of irises, apricot blossoms, and cornflowers in full bloom is a much-needed reminder that the growing season is on the way.
Harvard Museum of Natural History, 26 Oxford St., Cambridge, 617-495-3045. Open 9 a.m. to 5 p.m. Admission: $9 for adults, free to Massachusetts residents on Wednesdays from 3 to 5 p.m., September through May, and Sundays from 9 a.m. to noon. T: Red Line to Harvard.
Photo courtesy of the Franklin Park Zoo
Franklin Park Zoo
Hidden in the depths of Boston's bleak landscape is a tropical rain forest filled with ring-tailed lemurs, ocelots, and dwarf crocodiles. And don't forget the gorillas. They're all part of a newly renovated three-acre exhibition that opened last month at the Franklin Park Zoo. The concrete moat was replaced with five glass viewing stations, where zoo-goers can watch the foraging, feeding, and playing of the zoo's seven gorillas, including the adolescent male Little Joe, who has returned for public viewing for the first time since his great escape caper of 2003.The new $2.3 million steel-enforced habitat is said to be escape-proof, while giving Joe and his chums more room to climb and show off for visitors.
Franklin Park Zoo, One Franklin Park Rd., Boston, 617-541-5466. Open 10 a.m. to 4 p.m. daily. Winter (through March 31) admission: $8.50 for adults, $4.50 for children, with children under two free. See the zoo's Web site for information on public transportation and driving directions.

Photo by Michael Lutch
Boston Symphony Orchestra — Mahler's Symphony No. 3
While awaiting the return of songbirds' sweet melodies, attend a performance of the Boston Symphony Orchestra as it plays the sounds of summer with Gustav Mahler's Third Symphony. The Women of the Tanglewood Festival Chorus, the American Boychoir, and mezzo-soprano Stephanie Blythe will join the Boston Symphony Orchestra for the performances. The symphony is the second of Mahler's Wunderhorn Symphonies trio, composed to German folk poetry.
Symphony Hall, 301 Massachusetts Ave., Boston, 617-266-1492. Rehearsal is Thursday at 10:30 a.m.; concerts are Thursday, March 15, at 8 p.m., Friday, March 16, at 1:30 p.m., and Saturday, March 17, at 8 p.m. Rehearsal tickets are $17, and concert ticket prices range from $29 to $101. To purchase tickets, visit the BSO Web site or call 617-266-1200. T: Green Line E train to Symphony or any Green Line train to Hynes Convention Center.
Photo by Jessica Schnall
Butterfly Garden
Can't afford a cruise to the Caribbean? Not to worry — paradise is only as far as the end of the Green Line. At the Museum of Science's Butterfly Garden, the temperature is always warm, the flowers are in full bloom, and the gentle fluttering of colorful wings greets you upon arrival. Overlooking the Charles River, the garden offers a wonderful opportunity to observe more than 400 butterfly species from around the world. Naturalists are on hand to answer questions about mating, feeding, and basking behaviors, and if you're lucky, you might even see a new butterfly emerge from its chrysalis. When you leave, just be sure to check yourself in the full-length mirror for hitchhikers.
Museum of Science, Science Park, Boston, 617-723-2500. Open daily 9 a.m. to 5 p.m., except Christmas and Thanksgiving. Admission (requires separate Exhibition Hall ticket): $4 for adults, $3 for children, and $3.50 for seniors. T: Green Line to Science Park or Lechmere. 
Isabella Stewart Gardner Museum
The courtyard of the Isabella Stewart Gardner Museum feels like another world — even in March it's dotted with such flowers as jasmine and orchids. The courtyard is also the focus of three floors of galleries, with large Venetian windows and open hallways allowing an ever-present view of greenery. Created in 1903 to house Gardner's extensive art collection, the museum has been virtually unaltered since her death in 1924, giving visitors a sense of peeking into the past. And with a collection of more than 2,500 objects ranging from ancient Roman artifacts to 19th-century French paintings, there's plenty for art lovers to enjoy.
Isabella Stewart Gardner Museum, 80 The Fenway, Boston, 617-566-1401. Open Tuesday to Sunday, 11 a.m. to 5 p.m.; tours Tuesday to Friday at 2:30 p.m. Admission: $12 for adults, $5 for college students with ID, and free for anyone named Isabella. T: Green Line E train to Museum.