Pedagogy in the U.K.
Russell Robertson (CAS'07) first BU student to win Wykeham Studentship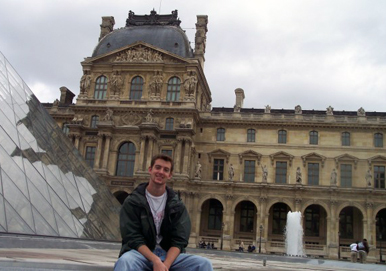 Russell Robertson has lived in Chicago, Connecticut, Hong Kong, and Honduras, and has visited Ecuador, Madrid, Paris, and both the Cayman and the U.S. Virgin Islands. So when the earth sciences and marine biology major began making plans for after graduation, an opportunity to teach geography in Winchester, England, had clear appeal.
"I very much like the idea of being overseas for my job," says Robertson (CAS'07).  "And I'll be teaching something I enjoy and find interesting, and I welcome the opportunity to share it with others."
A Trustee Scholar at BU, Robertson is the University's first winner of a Wykeham Studentship, a program that brings recent graduates to England for a year to teach at Winchester College, one of the United Kingdom's oldest and most prestigious boarding schools. Robertson will teach geography and coach basketball and soccer; in addition to his salary, he will receive free room, board, and transportation.
"He'll be an excellent ambassador both for BU and for American students," says Elizabeth Shannon, the director of the International Visitors Program and the Trustee Scholar Program, which offers merit-based, full-tuition scholarships to high school seniors.
Winchester College, founded in 1382, is one of England's original nine public schools for boys — the more exclusive type of boarding school that would be called a private school in America. The Wykeham Studentship, named for the school's founder, is open to graduates who are able to teach in the arts or sciences. "They don't need a teaching degree," says Shannon, "but are required to be passionate about their subject."
Robertson's teaching experience is limited to tutoring at BU's Educational Resource Center. Athough he doesn't expect to use his training in marine biology in the classroom, his double major in earth sciences will easily translate into a geography curriculum. "I will be teaching plate tectonics, river system morphology, glaciation, and maybe a little climatology as well," he says. "Earth sciences is my second major, so while marine biology won't be very pertinent, it's not like I don't have any interest in the subject matter."
He's also interested in Winchester itself, recently ranked England's second-best public school for secondary education. "I had the chance to visit during spring break, and Winchester is amazing," he says. "It was built in the late 14th century, and there have been additions, but the original stone walls and statues are still there. The grounds are absolutely gorgeous, and of course Winchester Cathedral is right there."
Robertson has a busy summer planned — including an African safari — before he begins teaching at Winchester this fall, but he's looking forward to having a year to teach and reflect on his next step. "I don't know what I want to do with my life yet," he says. "The Wykeham Studentship gives me a year to do something I am very interested in, while at the same time gaining experience and giving me time to further explore the options available to me and figure out what I might like to do afterwards."

Jessica Ullian can be reached at jullian@bu.edu.