Notes from Underground
Basement reading series opens at Agni on 2/1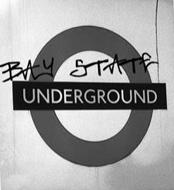 The novelists, poets, and playwrights in BU's Creative Writing Program know all about its stellar faculty and successful alumni, but they want to make sure everyone gets the message. So on the first Thursday of every month, they move things underground.
Bay State Underground, held in the basement offices of the BU-published literary magazine Agni, gives current students the opportunity to read their work alongside some of the city's up-and-coming writers, both BU alums and graduates of other programs who have made Boston their home. The first Underground of 2007, organized by Kate Woodward (GRS'07) and William Delman (GRS'06) and cosponsored by the Writers' Room of Boston, is scheduled for Thursday, February 1.
"You hear about the University of Iowa all the time," says Delman, a graduate of the fiction program. "But even living in Boston, you're not always aware of what a force the BU program has become in American writing. I had no idea until I arrived."
While the Creative Writing Program is known for its alumni, such as poet Anne Sexton, and former faculty member Robert Lowell, the Underground emphasizes work by more recent graduates, among them Jenna Blum (GRS'98), author of the 2004 novel Those Who Save Us, and Eric Grunwald (GRS'01), a writer and translator whose work has been published in Agni and Partisan Review. Thursday's program features readings by David Macey (GRS'07) and Chris Robinson (GRS'07), both students in the poetry program, Jonathon Myers (GRS'07), a student in the playwriting program, and Mary Bonina, a member of the Writers' Room of Boston, whose poetry and fiction have been published in journals and anthologies around the country. In March, student readers will be joined by Maggie Dietz (GRS'97), a College of Arts and Sciences lecturer and the director of the Favorite Poem Project, and Matt Yost (GRS'98), the administrative coordinator of the Creative Writing Program. Next year, the organizers hope to bring in Kate Snodgrass (GRS'90), the artistic director of the Boston Playwrights' Theatre.
The Underground's timing and location also reflect the challenging atmosphere of BU's one-year master's programs, which pack intensive workshops into nine months. "I called it a sprinter's marathon, because that's what it feels like. I was absolutely exhausted," Delman says. "You don't necessarily have the time to keep track of who's reading where, let alone to go out and pursue these opportunities on your own. By bringing this to the campus and making a point of inviting students and involving them, it creates an easy forum."
The first 2007 Bay State Underground is Thursday, February 1, at 236 Bay State Rd. Doors open at 7 p.m., and the reading begins at 7:30.
Jessica Ullian can be reached at jullian@bu.edu.