Masters of the Maestro
Bach competition winners reap rewards at Friday concert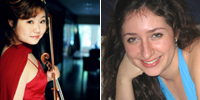 "In Bach's music, every note is important, every note means something and is saying something," says Tingchi Huang. Clearly, Huang (CFA'07), a doctoral student at the College of Fine Arts, knows those notes well. She has been playing the violin for almost 20 years and was named the winner of the graduate prize at this year's Bach competition at CFA, held last week.
Malorie Blake (CFA'07) was selected as the winner of the undergraduate prize.
BU's string department first organized the competition in 2000 — the 250th anniversary of Johann Sebastian Bach's death — to recognize the German composer's fundamental impact on string instruments. The competition enables students to study Bach and gives them an opportunity to perform in concert.
"Unaccompanied Bach is staple repertoire for string students and in fact for most string players," says Michelle LaCourse, a school of music associate professor of music and chair of the string department.
This year, 13 competitors played an unaccompanied Bach piece from memory for a panel of 5 faculty members, who considered the technical and musical aspects of each performance. The panel chose two students to be showcased in a concert tonight at the College of Fine Arts Concert Hall.
"Bach is one of the most difficult composers to perform," says Blake, who began playing the violin when she was two years old. "He's complex, emotive, lyrical, brilliant — his compositions are just incredible — and inventive."
"I really think Bach's Six Sonatas and Partitas for solo violin are the bible for all violinists," Huang says. "They strictly command not only musicality and playing technique, but also delicacy and boldness."
Bach's unaccompanied string pieces are masterworks, according to LaCourse. Each piece is played without a keyboard partner, leaving the solo performer to create harmony, melody, rhythm, and texture. "They are challenging and timeless," she says. "They are accessible to the audience, beautiful, extremely well-crafted, with twists and turns in the music, and individual interpretation can vary wildly while staying true to the style."
Interpretation, LaCourse says, will be an integral part of Blake's and Huang's performances at tonight's event when they each play Bach's second Partita in D minor, a solo violin piece with five movements. Part of the second Partita's allure is the concluding movement, called the chaconne, a complex piece of music that involves advanced intonation and bowing style.
"It's 13 minutes of nonstop playing," says Blake, adding that performing this movement has been her dream since she was 12. "It's physically exhausting, but you have to keep the audience's attention and tell the story."
For Huang, the chaconne's story is emotionally complex and specific. "The chaconne is like a long prayer to God, but instead of being grateful or joyful in the prayer, the person the chaconne is describing is confronting God with his own fate and saying, why me?" she says. "The key — D minor — also gives the movement a sad and depressing mood. It's like after being mad with God the person realized there would be no answer."
The concert is today at 8 p.m. in the CFA Concert Hall, 855 Commonwealth Ave. Admission is free.