"Lost" Now Found at Marsh Chapel
Fellowship group looks at TV show's spirituality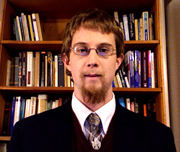 While the motto for Marsh Chapel's newest outreach program could be "Get Lost," it might more appropriately be "Lost and Found."
With the aim of reaching out to undergraduates — particularly first-year students — chapel associate Brother Larry Whitney recently launched a program that invites participants to compare ABC's hit television series Lost with the feeling of "lost-ness" that is typically experienced during the first year of college.   
"Lost is about a plane crash and the group of survivors who subsequently wash up on a deserted island," explains Whitney (STH'08), a graduate student working toward a Master of Divinity. "In order to stay alive, the group must learn to adapt to its new surroundings."
Students in their first year of college often feel similarly stranded, Whitney says. They may be far from home — perhaps for the first time — and while the newfound independence can be exhilarating, it's also frequently accompanied by feelings of homesickness, uncertainty, and loneliness.
"Life is essentially about finding one's way while in the midst of being lost," Whitney says, "and the freshman year in particular is about self-discovery."
Whitney joined the Marsh Chapel staff in January to reach out to first-year students. In addition to hosting the biweekly Lost workshops, he counsels students individually. "Students talk about a number of things: spirituality, relationships with family and friends, death," he says. "I'm here to listen."    
On a recent Tuesday night, a small group of BU students gathered in the basement of Marsh Chapel to view an episode from the show's first season. Titled "Deus Ex Machina," the episode focuses on a character whose faith is repeatedly tested. At one point, the character looks toward the sky and wails, "I did everything you wanted me to! Why did you do this to me?"
"I think the show draws strong parallels between religion and humanity," says Dave Romanik (CAS'07). "The character is imposing human logic on the island in the same way we impose human logic on the will of God. Because God provides us with answers that are completely different from what we expected, we often don't realize he has sent us an answer."
"There's never a straight path leading to the answers to life's questions," says self-admitted Lost junkie Casey Scholtz (ENG'07), "just as there's no straight path leading to the answers to this show."  
With its intriguing plot twists and character flashbacks, each new Lost episode poses more questions than explanations, which Whitney compares to university life. "College is more about teaching you how to ask questions than to glean answers," he says. "Questions are what direct us to the truth."
Lost workshops are held every other Tuesday at 8:30 p.m. in the lower level of Marsh Chapel. The next session will take place on Tuesday, March 20. For more information, call Whitney at 617-358-3391.
Vicky Waltz can be reached at vwaltz@bu.edu.