Keeping Boston's Brightest Close to Home
High School Scholarship Program nears $120 million milestone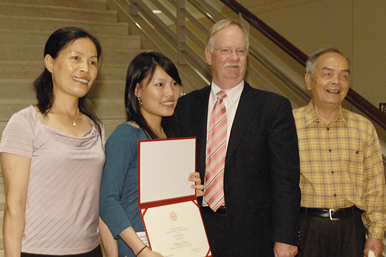 Huijun Liao was 13 years old when her family immigrated from China to Boston. An only child, she fought homesickness while struggling to learn English and adjust to life in a strange city. Today Liao, the John D. O'Bryant High School valedictorian, regards Boston as her home. And when she applied to colleges, she looked no further than Boston University.
"I wanted to come here from the beginning," she said, "but I was worried because BU is expensive. So my guidance counselor told me to apply for the Boston High School Scholarship Program."
Liao (SAR'11) is one of 39 seniors from 13 Boston high schools who will attend Boston University this fall on a four-year, full-tuition scholarship, thanks to the University's Boston High School Scholarship Program. The country's largest and longest-running scholarship program for urban public high school graduates, it has awarded nearly $120 million in scholarships to more than 1,600 students since 1973. This year's awards represent about $1.3 million over the next four years.
Scholarship recipients were recognized during a special awards ceremony at the School of Management on Wednesday evening, June 20. In attendance were BU President Robert A. Brown and special guest speaker Mayor Thomas Menino (Hon.'01), as well as Boston public schools superintendent-designate Carol R. Johnson and Michael Contompasis (CAS'62), who has been superintendent since 2006.
"I want to thank BU for its commitment to Boston and its young people," Menino said. "These scholarships are a vital investment in a new generation of Boston leaders that will pay off for years to come, and this program is the kind of sustained partnership we need to ensure that every child reaches their full potential."
Indeed, many recipients stay in the area after graduating, according to Ruth Shane, director of the BU/Boston Public Schools Collaborative Office. "It's a process of renewing the city's infrastructure," she said.
English High School graduate Cesar Matos (CGS'09) has no plans to leave Boston, which is one reason he applied to BU. "I also applied to Brown, but I wanted to be close to my family," he said. "Winning the scholarship only made the decision that much easier." Matos, whose mother came to Massachusetts from Puerto Rico before he was born, is English High School's first male valedictorian in 12 years.     
Boston High School Scholars are nominated by their school's headmaster or guidance counselor and chosen by a three-member committee comprising representatives from the mayor's office, the University's Office of Admissions, and the Boston public school system. This year's scholars have an average combined SAT score of 1250 and a grade point average of 3.6. Additionally, all are ranked in the top 7 percent of their class.
"By working hard, you have put yourselves in the position to take advantage of a valuable opportunity," Brown told the scholars. "You have made your own luck by preparing for opportunity. We know you are ready for the challenges of the next four years here at Boston University."

Vicky Waltz can be reached at vwaltz@bu.edu.