Fidelity Group CIO Joins BU Board of Trustees
Philip Bullen brings extensive management experience in global finance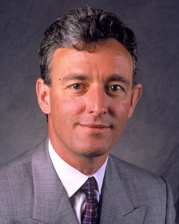 At its December meeting, the BU Board of Trustees elected as a member investment management veteran Philip Bullen, who has extensive experience in domestic, international, and global investing.
Bullen is the group chief investment officer overseeing large core and capital appreciation equity mutual fund groups at Fidelity, one of the world's largest mutual fund firms. Since December 2005, he has served as a nontrustee member of the BU Board of Trustees Investment Committee, which is responsible for BU's investment policy and for oversight of the University's investment and venture capital portfolios.
"I am delighted that Philip Bullen has agreed to join the Boston University Board of Trustees," says Trustee Chairman Alan Leventhal. "Philip has provided great insight and energy to our Investment Committee, and his extraordinary work in — and knowledge of — global finance will strengthen the Board as the University expands its reputation as a center of excellence in higher education."
Bullen joined Fidelity in May 2000 as senior vice president and head of international and institutional investments. In his current role as group chief investment officer, he oversees large core and capital appreciation domestic funds totaling over $250 billion in assets.
From 1997 to 2000, Bullen served as president and chief investment officer of Santander Global Advisors, Inc., an investment management firm with 45 employees and $1.5 billion in assets.
Before that, he was president and chief executive officer of Baring Asset Management, Inc., a global investment management firm that provides asset management services in developed and emerging equity and bond markets. He oversaw all North American operations, including investment activities in the Boston, San Francisco, and Toronto offices, with over 120 employees and $15 billion under management. As a portfolio manager, he was responsible for managing large North American institutional client relationships of more than $5 billion. 
Bullen, a charted financial analyst, received his MBA from the City University Business School in London.
The 36-member Board of Trustees provides oversight of, and is responsible for, the University's academic, financial, and business affairs and assists in long-range planning and development. The full board meets at least three times a year, elects the president of BU, and reviews the strategies and performance of the University's administrative team. Its members, who staff 12 committees, including executive, academic affairs, athletics, and development and alumni relations, are elected to terms of one to three years and are limited to 14 consecutive years of service.
Also elected to the Board in 2006 were Richard Cohen (SMG'69), president of Capital Properties, Cleve Killingsworth, president and CEO of Blue Cross Blue Shield of Massachusetts, Alan Questrom (SMG'64), the former chairman and CEO of J. C. Penney Company, Inc., and Columbia University Provost Jonathan Cole. Another addition to the board was Julie Sandell, an associate professor and vice chairman of the School of Medicine's department of anatomy and neurobiology. Sandell became an ex officio voting member of the Board at the start of the fall semester as the new chairman of the BU Faculty Council.
Brian Fitzgerald can be reached at bfitzger@bu.edu.