Dogfight
Terriers face Huskies tonight in opening bid for 28th Beanpot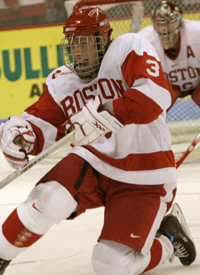 In 34 years as head coach of the Boston University men's ice hockey team, Jack Parker has probably given 1,000 pregame speeches. But he won't need one tonight, before the Terriers take on Northeastern University at 5 p.m. in the first round of the 55th annual Beanpot Tournament at the TD Banknorth Garden.
"You don't have to say anything for the Beanpot," says Parker (SMG'68, Hon.'95). "If anything, you try to calm the players down. Sometimes they get too excited." And what's not to be excited about? Over the years since 1952, BU has batted .500 in the tourney, collecting 27 Beanpot championships (including 10 of the last 12), and has won its first-round game for 12 straight years.
The Terriers (13-5-8) and the Huskies (10-12-4) have faced off twice this season. BU took a 4-3 decision on October 20, and the teams skated to a scoreless tie on January 6. Since then, both teams have been on a roll. The Terriers, ranked seventh nationally, tallied impressive road wins against the University of Maine and Boston College. The Huskies swept a two-game series against the University of Massachusetts–Lowell and also picked up a road win at Maine.
Goaltender and assistant captain John Curry (CAS'07), who ranks fourth nationally with a 1.96 goals-against average and is second in the nation with four shutouts, says the Terriers have been playing well lately because of their penalty-killing effectiveness and a resurgent offense. Posting a record of 6-1-2, the Terriers scored 28 goals in January. Forward Pete MacArthur (SED'08) has helped lead the way, scoring five goals and adding four assists over the last seven games. Defenseman Kevin Schaeffer (CAS'07) has put in four goals in his last five games and forward Chris Higgins (CAS'09) has tallied seven points (four goals, three assists) in his last six games. "We've been scoring more over the last eight or nine games," says Curry, "and that definitely provides what we need to win."
The BU team will have to put forth more of the same if it expects to score tonight on the Huskies. Northeastern goalie Brad Thiessen allowed just 12 goals in eight January games, posting a 1.45 goals-against average and a .943 save percentage. Offensively, Chad Costello (10 goals, 10 assists) and Mike Morris (7 goals, 11 assists) lead the Huskies. 
Parker says that Northeastern, which has not won a Beanpot since 1988, has many of the ingredients of a championship team: good goaltending, four strong lines, a scorer (Morris), and a competitive attitude.
"I think they're one of the best teams in our league," he says. "They're very, very competitive."
In the other first-round Beanpot action, Boston College butts heads with Harvard tonight at 8 p.m., after BU and Northeastern tangle.
And on Tuesday, it's the ladies' turn. The BU women's ice hockey team (15-9-3) will play Northeastern (3-22-2) in the first-round matchup at Boston College. BU defeated Northeastern, 4-2, on January 13. Sophomore Erin Seman (SMG'09) leads the Terriers in scoring with 14 goals and 12 assists.