Day Tripping: 10 Hours in Provincetown
Cool breezes meet hot nightlife on the tip of Cape Cod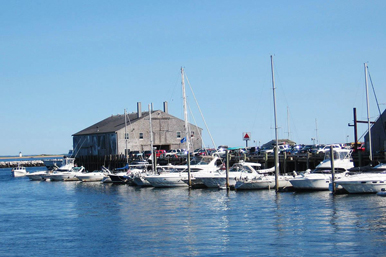 So, you've been in Boston for only two weeks, and already you're hankering for a cool getaway. Now is the perfect time to explore Provincetown, a funky, bohemian village located at the tip of Cape Cod best known for its pristine beaches, rolling sand dunes, and eclectic artist community.
Don't have a car? Don't worry. A ferry departs from Boston Harbor at 9 a.m. every morning. Roundtrip tickets are $70 (add $5 for bikes), and the boat arrives in Provincetown within 90 minutes of its departure from Boston. On weekends, the returning ferry leaves at 8:30 p.m., so you'll have 10 hours to take in all of the town's quirky charms.
Also called P-town, this seaside resort has a rich history, beginning with the arrival of the Pilgrims in 1620. It remained a bustling seaport throughout the 18th and 19th centuries, but by the early 1900s had become known as Greenwich Village North, thanks to artists from New York and Europe who came for town's natural beauty, its seafood, and of course, for one another.
Today, Provincetown is a beacon for thousands of summer tourists, including a large contingent of the gay and lesbian community. Visitors come for the zany nightlife, delectable seafood, and shops that sell most everything, from antiques to sex toys.
Here, we map out our suggestions for a full day in Provincetown, factoring in time for gallery-hopping, window-shopping, and beach-bumming.
10:30 a.m. — Breakfast at the Provincetown Portuguese Bakery and Coffee Shop
A town landmark, the Provincetown Portuguese Bakery and Coffee Shop (299 Commercial St., 508-487-1803) is much loved for its authentic and inexpensive menu. Be sure to try the Portuguese sweet bread or the sponge cake with Bavarian crème. Or, if you're feeling particularly adventurous, order the trutas, a pastry filled with sweet potatoes, lemon, sugar, and cinnamon and a shell spiked with whiskey.
11 a.m. — Swimming at Herring Cove BeachNamed one of America's Best All-Time Beaches by the Travel Channel, Herring Cove Beach's placid waters are ideal for swimming. Part of the Cape Cod National Seashore and managed by the U.S. National Park Service, the beach has restroom facilities, a concession stand, showers, and lifeguards. If it's too cold to swim, walk north toward Hatches Harbor. You might catch a glimpse of whales breaching or seals basking in the sun. From town, it takes 20 minutes to bike there and 30 minutes to walk. We recommend catching the town shuttle bus, which leaves every 30 minutes from MacMillan Wharf. The fare is $1 each way.
1 p.m. — Lunch at Mojo's
Best known for its lightly breaded fried fish and clams, this seafood shack serves more than 130 items ranging from pizza and kosher hot dogs to steak subs and vegetarian wraps. Be sure to try the French fries, which are hand-cut daily. Menu items are typically less than $10, and the restaurant (5 Ryder St. Ext., 508-487-3140) is conveniently located in the heart of Provincetown, across from the town hall. Picnic tables on the outdoor patio provide prime opportunities for people-watching — be on the lookout for leather boys, pierced ladies, and the occasional Cher impersonator.
1:45 p.m. — Pilgrim Monument and Provincetown Museum
If you arrive on a clear day, the first thing you will see is the Pilgrim Monument (1 High Pole Rd, 508-487-1310). Towering above the town at an impressive 252 feet, the granite structure can be seen from miles out at sea. Built between 1907 and 1910, it commemorates the Pilgrims' first landing in the New World and the signing of the Mayflower Compact. For panoramic views — dunes on one side, harbor on the other — climb the tower's 116 steps and 60 ramps (a great cardio workout). The adjoining museum highlights the town's rich maritime history. Admission is $7.
3 p.m. — Commercial Street
A trip to P-town wouldn't be complete without at least one stroll down Commercial Street. Just three miles end-to-end, the town's main thoroughfare is home to more than 400 businesses. There's a little something for everyone: art galleries and upscale boutiques cater to the more cosmopolitan tourists, while tattoo parlors and novelty shops attract the more cutting-edge crowd. Although most of the businesses are located in the center of town, the largely residential East and West Ends, with their quaint inns and elaborate gardens, are worth the extra steps.
5 p.m. — Dinner at Bubala's by the Bay
Located at the beginning of the West End (183 Commercial St., 508-487-0773), this buzzing bistro — with its gaudy yellow paint and Picasso-esque wall murals — serves affordable food with a Caribbean flair. "It's all about the fish, the jazz, and the patio," Bubala's Web site boasts, and indeed, all three are superb. The seafood is delivered fresh daily by local boats, and a live jazz band is sure to keep you entertained throughout your meal. If you opt to dine on the patio, you'll likely share it with some four-legged friends, as dogs are welcome here. Start off with a bowl of clam chowder ($3.50) or some Cajun calamari steamed with stout and fresh herbs ($8.95). For an entrée, order the cod, steamed with lemon grass and wrapped in parchment paper and served with roasted potatoes and asparagus ($16.95). Or if you're in the mood for something spicier, try the West Indian Roasted Lobster, painted with jerk sauce and filled with a Caribbean seafood stuffing and served with basmati rice and vegetables ($25.95).
6:30 p.m. — Dessert at the Purple Feather
If you're not too full from dinner, wander down Commercial Street to the Purple Feather (322 Commercial St., 508-487-9100) for a sweet end to your day. Its rich chocolate candies and fudge are sure to please. For a unique treat, try the Not-Your-Average-Pretzel-Rod, which is wrapped in chewy caramel, dipped in milk chocolate, and then rolled in chopped almonds and toffee. Or get the quarter-pound sea turtle, a gooey concoction of fresh roasted nuts covered in caramel and dipped in luscious chocolate.
7 p.m. — After Tea Dancing at PiedBar
You still have an hour and a half before the ferry leaves, so why not check out one of P-town's dance clubs? PiedBar (193A Commercial St., 508-487-1527) opens its doors every evening at 6:30 and features "high octane, ab-ripping music" powered by resident deejay Ken Sima. Best of all, there's no cover charge. You must be 21 to get in.
Vicky Waltz can be reached at vwaltz@bu.edu.
Click here to explore more day trips from Boston.