COM Class Raises $2,000 for Community Center in Cambridge
Jo Doherty's Community Relations class raised $2,000 and volunteered at the Cambridge Arts Community Center.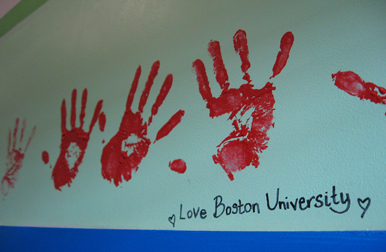 Jo Doherty, an associate professor of mass communication in the College of Communication, knows the best way to teach students community relations is through a firsthand relationship with the community.
The final project for COM's Community Relations class provides just that. At the beginning of the semester the students choose a nonprofit organization to help, and then spend time planning. This year, the class collected $2,000 and for three days painted, cleaned, and organized the Cambridge Arts Community Center, which offers structured after-school art programs for underprivileged children ages 6 to 19. "In this case, the kids went above and beyond," Doherty says.
Doherty's students solicited donations, including paint, cleaning, art, and office supplies, and computers, from Home Depot, Mastro Landscape Development and Construction, City Paint and Supply Company, Staples, and the UPS Store at Packard's Corner.
By dividing the students into committees, Doherty says, she tries to create a work experience similar to what they will undergo in the corporate world.
"It gets kids into the bigger community. There is a world outside of BU, and it's good to work for people," says Doherty. "When the day was done, it was a really great learning experience, and it was fun, too!" 
Kathleen Dowling can be reached at dowlingk@bu.edu. Brittany Jasnoff can be reached at bjasnoff@bu.edu.