Celebrating a Legacy of Equality
BU honors MLK on Jan. 15 with dance, drumming, and gospel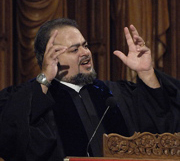 On Martin Luther King, Jr., Day, BU will not only honor King (GRS'55, Hon.'59), the nation's most influential civil rights leader, but will also recognize the power of oration, which King used to electrify his audiences and bring about social change. Free and open to the public, The Word: A Celebration of the Poet, the Preacher, and the Spoken Word Artist will be held on Monday, January 15, at 2 p.m. at the Metcalf Hall of the George Sherman Union.
The event will feature addresses by Rev. Dale Andrews, the Martin Luther King, Jr., Professor of Homiletics and Pastoral Theology at the BU School of Theology, and Robert Pinsky, a professor of English at the College of Arts and Sciences and a former U.S. poet laureate.
King used his remarkable command of rhetoric and his verbal eloquence to craft and deliver speeches that were as moving as his sermons, according to Pinsky. "A great writer and speaker like Dr. King has mastered both the intellectual and bodily arts," he says. "Like poetry, a sermon is both physical — made of actual breath, vibrating, coming from a human body — and analytical — typically taking a few scriptural words and meditating on them."
Taped portions of King's speeches will be interspersed throughout the January 15 proceedings, and the adjacent Ziskind Lounge will be decorated with artwork by students from the Thomas Gardner Elementary School in Allston and the Winship Middle School in Brighton, according to Raul Fernandez, assistant director of the Howard Thurman Center, which is organizing the King celebration with the Office of the Dean of Students.
Soulstice, a BU hip-hop and reggae dance group, will perform a liturgical dance to a recording of the song "No Weapon" by gospel singer Fred Hammond. "We choreographed the dance to fit the lyrics of the song, which we feel aligns rather well with Dr. King's struggle against injustice," says Soulstice member Shameka Gregory (CAS'08). "The line most frequently heard throughout the song is, 'No weapon formed against me shall prosper.'"
Also performing will be the Inner Strength Gospel Choir, which has been active at the University for more than three decades; spoken word artist Justin Lamb (COM'07), from the BU slam-poetry group Speak for Yourself; Native-American singer and dancer Annawon Weeden; and David Kaipu, who will perform African drumming. Kaipu, a maintenance mechanic for BU's Office of Facilities Management and Planning, is from Liberia. Dean of Students Kenneth Elmore will speak at the event as well.
At the conclusion of the celebration there will be a procession to Marsh Chapel and a commemoration at the Free at Last sculpture, which was installed on Marsh Plaza in 1975 in memory of King. The commemoration will be officiated by Rev. Sakena Young-Scaggs, associate dean of Marsh Chapel. Young-Scaggs says that she is honored on both a personal and a professional level to participate in the celebration. "Personally, my mother passed away this past year, and she marched with Dr. King while I was in her womb," she says. "Professionally, I'm still marching with his legacy, principles, values, and vision."
Dale Andrews, in addition to speaking at the Martin Luther King, Jr., Day celebration, will lead a Faculty Forum Chat on Thursday, January 18, from 3:30 to 5 p.m. in the Richards-Roosevelt Room, on the first floor of Mugar Memorial Library. The talk, Martin Luther King, Jr.: Civil Rights and Political Life Today, is sponsored by the Howard Gotlieb Archival Research Center and is free and open to the BU community.
Brian Fitzgerald can be reached at bfitzger@bu.edu.