Caring for the Underserved
Six BU grad students chosen for Boston Albert Schweitzer Fellowships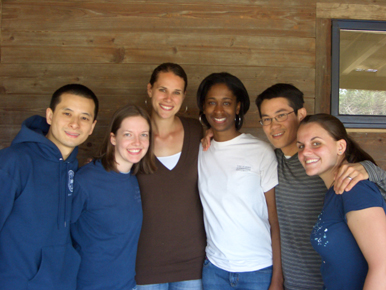 In 1913, at the age of 30, the German physician Albert Schweitzer devoted his life to providing medical assistance to communities in Africa. Today, six Boston University students will continue that tradition of helping the underserved, thanks to a fellowship program established in the Nobel laureate's name.
The six underwent the program's competitive selection process to become 2007–2008 Boston Schweitzer Fellows, along with 28 other students from the area's top health and human services schools. Shirley Austin (SDM'08), Rebecca Hanson (SAR'08), Anthony Lim (MED'10), Elizabeth Lima (SAR'09), Elizabeth Selden (MED'10), and James S. Yeh (MED'06,'10) each received a $2,000 stipend to lead a health care–related public outreach activity in their local community.
The Albert Schweitzer Fellowship was founded in 1940 to support Schweitzer's work during World War II, and since his death in 1965, the fellowship has provided assistance to the Albert Schweitzer Hospital in Lambaréné, Gabon. In 1991, the fellowship program expanded its outreach with the U.S. Schweitzer Fellows Program, and in subsequent years fellows have devoted more than 278,000 hours of service to domestic community agencies.
In addition to completing the required course work, 200 hours of service, and a final report, fellows attend monthly meetings to discuss their work and to network with professionals in human services fields.  
Austin, who works with Catholic Charities to address the oral health needs of Somali Bantu and Burmese/Myanmar families, says she has enjoyed going to those meetings and becoming friends with other fellows. "I have a network of people to help out if I need them," she says.
Hanson echoes that thought. "Being around other fellows who want to serve those who are often ignored inspires me and gives me hope for the future," she says. She and Lima are working to improve an after-school program for Boston public school students with developmental delays. They will teach the students such life skills as cooking, food safety, nutrition, and physical fitness.
"In school, you don't really have the opportunity to share what you learn," Lima says. "It's great that we can actually apply it."
Selden is working with high-risk pregnant women at the South End Community Health Center, and Yeh is improving alcohol and drug screening, interventions, referrals, and treatment settings for patients at Boston Medical Center. He also will collaborate with School of Medicine faculty to create a curriculum on diagnosing and treating substance abuse.
Lim works at the Barbara McInnis House, part of the Boston Health Care for the Homeless Program, helping to educate participants on issues regarding Boston's homeless population. He will create a resource manual for the McInnis House to use after he leaves. His project relates to the symposium that the BU Schweitzer fellows will host in November as part of their fellowship. Tentatively titled Perspectives on Homelessness, it will bring together professionals to discuss homelessness and the ways that people can help.
"We selected this focus because of our interest in working with this population, feeling like it isn't addressed as much as we'd like it to be in our various curricula," Hanson explains. "We thought it would be a great opportunity to gather people from a variety of disciplines."
After the year of service officially ends in April 2008, the participants will become Fellows for Life, continuing to volunteer in their communities and serving as role models for other professionals.
Rebecca McNamara can be reached at ramc@bu.edu.