BU Falls to BC 6-2
Lose Hockey East Semifinals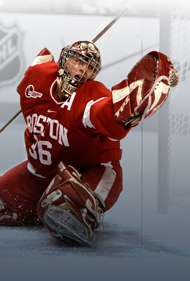 The eighth-ranked Boston University men's ice hockey team fell short in its attempt for a second consecutive Hockey East title, dropping a 6-2 decision to No. 6/7 Boston College in the league semifinals on Friday evening at TD Banknorth Garden. The Terriers, who are expected to receive an at-large berth in the NCAA Tournament, now stand at 20-9-9 on the season.
Sophomore Brock Bradford scored a pair of goals and added an assist for BC, while classmate Benn Ferriero and freshman Ben Smith each recorded a goal and an assist. Senior Brian Boyle had a trio of assists.
The Terriers got goals from sophomore Brandon Yip and junior Bryan Ewing.
The Eagles scored twice in each of the first two periods and built up a 4-0 lead before the Terriers got on the board with Yip's tally 1:25 into the third.
Each team recorded 32 shots, as senior John Curry made 17 saves in his two periods of work before junior Karson Gillespie made 9 saves in the third. BC got a 30-save performance from junior Karson Gillespie.
In other hockey news, for the first time in eight years, a member of the Boston University men's ice hockey team has been named a finalist for the Hobey Baker Award, college hockey's top individual honor. Goaltender John Curry was selected as one of the final 10 candidates for the trophy on March 15.
 
Curry (CAS'07), a Terrier assistant captain, is widely considered the top goaltender in the country. He is the only goalie to be ranked in the top three in both goals against average (second, at 1.82) and save percentage (third, at .934). The 2007 Hockey East Player of the Year, Curry has posted a best-in-the-nation 7 shutouts this season, and his 13 career shutouts match the University record. 
BU fans can help Curry move one step closer to becoming the second Terrier to win the Hobey Baker Award by voting for him at www.hobeybaker.com. Voters cast a ballot for one candidate at a time, but they can vote multiple times per day. Click here for information on Curry and his Hobey Baker credentials.