At Commencement, Moving Forward by Looking Back
Walter Smelt III (UNI'07) to give student address at Sunday's ceremony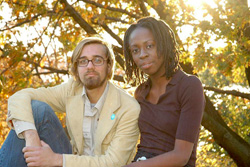 The leaf is orange
as if spring and winter
have rubbed against
each other inside it
until its heart caught fire.
        — Walter Smelt (UNI'07)
When asked what he will do now that he's graduating from Boston University, Walter Smelt III (UNI'07) talks about modeling for artists or painting a house or renovating an apartment or doing other odd jobs. He says, quoting the 18th-century English writer Samuel Johnson, "To a poet, nothing can be useless."
Then he pauses. "I hope that's true," says Smelt, who, after writing and delivering his speech to a committee of faculty members, has been selected as the student speaker at BU's 134th Commencement, on Sunday, May 20.
These days, Smelt also is looking back — at all of his experiences at the University, at the moments and events that make up his BU story, which will be the focus of his Commencement speech.
He arrived in Boston from West Palm Beach, Fla., to explore literature and religion in the University Professors Program. He remembers freshman year, when his roommate would tell him to dress in layers to keep warm or when he watched two poets improvise at a poetry reading in Cambridge. He thinks about the cultural events at the University, like a film sponsored by the Organization of Pakistani Students, and various BU Quickie Jobs, which he calls "a kind of living footnote" that gave him glimpses of the real world. He sees the impact Boston University has had on his life. He sees it as an awakening.
"BU has given me this sense of a wider world that I'm really only beginning to explore," he says. "It's not just fun to learn about other people — there's really a responsibility to do so, because that's who you're going to be working with, coexisting with."
Smelt is also looking ahead. He talks about hopping a freight train across the country or preaching in Harvard Square, about religion and history and poetry, about John Donne and Saul Bellow (Hon.'04) and Elie Wiesel (Hon.'74), about oppression and ignorance and globalization. These are the things he is passionate about. But when pressed about what he would like to do in the months or years following graduation, he tells you that he wants to explore, to wander, to get a sense of himself, to form a philosophy.
"I am looking forward to the journey," he says. "I definitely want to go abroad, which I think will be an important part of my education even if I'm not taking classes at the time. What did Mark Twain say? 'I have never let my schooling interfere with my education.'"
Under the light of streetlamps,
Snow flurries into
              and out of existence.
        — Walter Smelt
Smelt might be vague about his immediate plans — he'll stick it out in Boston for another year while his partner finishes up her degree, continue the odd jobs, try his hand at teaching, work on his writing — but beneath it all, he is looking to something bigger than a career. He's looking to understand the world around him, to understand his place so that he can make a positive change.
"A lot of people see my generation as apathetic," he says, "and that's certainly true. A lot of us do get apathetic and cynical about the prospect of changing things. But I also have friends who are about to graduate or just graduated who are attending conferences in Africa on poverty and health and climate science or who are going into teaching. There's a lot of awareness, and sometimes that translates into pessimism, but sometimes it translates into action. This is where writing comes in, which I feel is my calling. There's an opportunity in all forms of communication not only to inform, but to motivate."
Once more walking
instead of writing,
I see leaves as
flat, broad and
ready as paper.
        — Walter Smelt

Nicole Laskowski can be reached at nicolel@bu.edu.