Agni's Past and Present
BU's literary magazine celebrates 35 years with reading tonight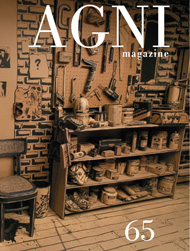 More than three decades ago, the acclaimed literary magazine Agni surfaced at a small liberal arts college in Ohio, changing both the landscape of the fiction world, and temporarily, the appearance of its founder.
"I'll never forget printing the first copies of Agni in the school print shop," says novelist Askold Melnyczuk (GRS'78). "I'd been up all night burning plates, and I fell asleep standing up in front of the press. I had very long hair, and it got caught in the whirling of the drum. I'd have a lost a lot more hair if a friend hadn't been there to switch off the press."
Despite its inauspicious launch, Agni, which has been published at Boston University for the past 20 years, is still going strong. In celebration of its 35th anniversary and the publication of its 65th issue, the magazine is hosting a reading and release party tonight at the Boston Playwrights' Theatre. The evening will feature special appearances by essayist and poet Melissa Green (GRS'82), novelist Vince Passaro, nonfiction writer Jonathan Schell, and poet Rosanna Warren, a University professor and BU's Emma Ann MacLachlan Metcalf Professor of the Humanities.
The semiannual Agni publishes short stories, essays, poems, translations, art, and photography by emerging writers and artists from around the world. Although commonly presumed an acronym, the magazine's title actually refers to the ancient Vedic god of fire and guardian of mankind.
While the journal saw its professional beginning at Antioch College in 1972, Agni's roots can be traced to a high school in Cranford, N.J. "In 1971, I was the editorial page editor for the school newspaper," Melnyczuk recalls.  "When I wrote a piece the administration didn't want us to publish, I discovered that the only sure way to maintain editorial control and integrity was by owning the newspaper. So a group of friends and I started Agni as a mimeo rag, which we sold to our classmates for a penny."  
When Melnyczuk arrived at Antioch the next year, he found himself among like-minded classmates, which allowed him "to leave the editorializing to others" and turn his focus to writing poetry and fiction and transforming Agni into a literary journal.
"As a scholarship kid, I was always aware of the economic side of publishing," he says. "I loved the freedom and editorial control of running one's own press, but I learned that without deep pockets, you have to do everything yourself. So I learned how to burn plates and run an offset press."
In 1987, Melnyczuk brought Agni to Boston University, where it remained even after Melnyczuk left to teach at the University of Massachusetts, Boston, in 2002. Supported by the Creative Writing Program, the magazine "is one of the strongest voices of one of the most active writing communities in America," says current editor Sven Birkerts.
Today Agni has a print run of 3,000, and each issue features work by approximately 40 writers and artists. The magazine has subscribers in 38 states and 10 countries, and it is carried by more than 100 university and city libraries and distributed to independent and chain bookstores nationwide.
Each week, the editors receive hundreds of submissions, many of  them from overseas. "We don't style ourselves as being specifically international," Birkerts says, "but I think we're pretty hospitable to a fairly cosmopolitan sense of contemporary literature."
The submission pool is highly competitive, according to Birkerts. Writers whose work has appeared in the magazine include Olga Broumas, a poet and Guggenheim Fellow; former U.S. poet laureate Louise Glück, a Pulitzer Prize–winning poet and CAS lecturer in creative writing; Ha Jin (GRS'94), a CAS professor of creative writing and winner of a National Book Award, two PEN/Faulkner Awards, and a PEN/Hemingway Award; Derek Walcott, a Nobel laureate and CAS professor of creative writing; and David Foster Wallace, a novelist and MacArthur Fellow. Agni accepts unsolicited manuscripts between September 1 and May 31, and submissions may be accepted for publication in Agni or on the magazine's Web site.
Tonight's reading promises to be compelling, Birkerts says, because four of contemporary literature's best writers will be reading.
"I am sometimes surprised that Agni has lasted as long as it has, but on the other hand, I'm not," Melnyczuk says. "Every generation needs a few vehicles to which it can keep returning over the years, and I'm happy Agni has maintained that balance of fidelity to the old and openness to the new, which is what makes for durability."
Agni's anniversary reading takes place tonight, Wednesday, May 9, at 7 p.m. at the Boston Playwrights' Theatre, 949 Commonwealth Ave. The event is free and open to the public. For more information, contact Bill Pierce at 617-353-7135 or agni@bu.edu.
Vicky Waltz can be reached at vwaltz@bu.edu.