A Midsummer Night in the Park
Shakespeare expert William Carroll on the Bard's best-loved comedy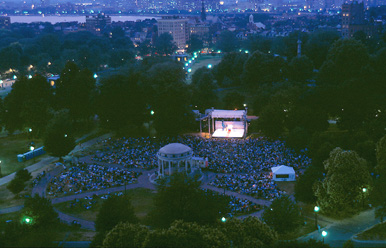 Every summer, the Commonwealth Shakespeare Company (CSC) transforms Boston Common into a Shakespearean theater, with a week of free performances. This year, from July 24 to 29, the tradition continues at the Parkman Bandstand with the CSC's contemporary interpretation of A Midsummer Night's Dream, directed by Steven Maler and presented by the Citi Performing Arts Center.
The comedy, written in the late 16th century, takes place in the four days before the marriage of royal two lovers, Theseus and Hippolyta. A group of Athenian craftsmen, known as the mechanicals, rehearse a play, the tragic story of Pyramus and Thisbe, to celebrate the wedding. Their literal interpretation of this tale becomes a parody of Romeo and Juliet. Fairies, mistaken lovers, magic, and confusion infuse A Midsummer Night's Dream.

BU Today spoke with William Carroll, an English professor in the College of Arts and Sciences, the editor of several books about Shakespeare, and a former president of the Shakespeare Association of America, about the play's significance and what viewers should look for.

BU Today: Why did Shakespeare write A Midsummer Night's Dream?
William Carroll: A Midsummer Night's Dream takes up in comic form a lot of the issues, themes, and even the plot that Romeo and Juliet takes up in tragic form. In Romeo and Juliet, the irrationality of love leads them to suicide, and in A Midsummer Night's Dream, it leads them to confusion, chaos in the woods, dreams, fantasy, and a positive comic resolution. It's one of Shakespeare's shortest and most perfectly formed plays, and one of his most profound plays because it's all about dreams, imagination, and the power of what makes art. There are a lot of his interests in this play, and I think in large part also he investigates the power of imagination.
Are there any political concerns in the play?
Shakespeare has Theseus refer to Queen Elizabeth in the course of the play. Queen Elizabeth never married, avoided desire, and supposedly never fell in love, but the play is about marriage. In some ways, it's about the imposition of masculine authority over women, about the blindness of masculine authority.
How is Shakespeare relevant for today's viewers?
This play in particular has continued as maybe the most performed of all his comedies. It's obviously still highly relevant because it's about love, irrationality, dreams, imagination — we still do all those things, though we may have lost a few of the references. Not everyone in the audience today might know the story of Pyramus and Thisbe, and that it is a tragedy, but they'll pick it up. You don't really need to know all those details.
For someone who isn't familiar with the play, is there anything to look for while watching the performance?
One of my interests is the way a director decides to represent magic on stage. How's he going to show Puck doing his tricks? There's a stage direction that reads, "Enter Puck, invisible." It means nobody can see him, but he has to be there. One of the things that Shakespeare does in the play is investigate the conventions of the stage. Shakespeare's play is the opposite of realism. It's all fantasy, dreams, invocation, and imagination.

Is the play for all ages?
It's definitely for all ages. It's easy to apprehend, but I'm not so sure it's easy to understand. You really study this play, and it's tremendously interesting, and it's as profound in what it does as Hamlet is in what it does. But it's easy on the stage.

Rebecca McNamara can be reached at ramc@bu.edu.