900 Prayers for Peace
Hug Don't Hate takes over Warren Towers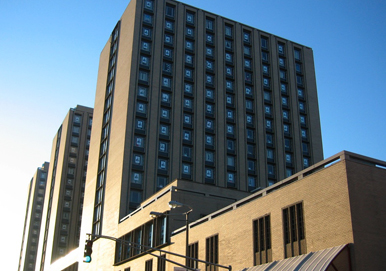 Most people only dream of achieving world peace. Sidney Efromovich is actively pursuing it. Last fall, Efromovich (CAS'09) introduced Hug Don't Hate — an international youth initiative aimed at ending discrimination — to the Boston University campus. This week, the group launched its largest initiative to date: the Warren Towers UNITED campaign.
Beginning on Tuesday, April 10, and continuing for 48 hours, each of Warren Towers' 900 windows is sporting a poster that bears the Hug Don't Hate symbol for nondiscrimination. The posters can be seen from both sides of Commonwealth Avenue and even from across the Charles River.    
"Our goal is to transform Warren Towers, the nation's largest nonmilitary dormitory, into the largest beacon of peace Boston has ever seen," says Efromovich. ""The objective is to show that in a place where so many religions, ethnicities, cultures and identities are represented, we stand united."
Today, the area behind the Warren Towers guard booth has been designated as a place where people can celebrate their unity. Hug Don't Hate members are giving free hugs and selling Hug Don't Hate's "Peace" T-shirts. Several student musical groups will perform throughout the day. Additionally, Efromovich says, students will have the opportunity to make peace art by drawing "whatever they feel peace is."
The goal of the project, says Hug Don't Hate vice president Bruna Maia (CAS'10), is to encourage a dialogue among members of the BU community. "We want people to ask about the posters and directly confront discrimination," she says. 
"I think it's really special that these students will put themselves out there and take the risk of connecting with people they don't know," says David Zamojski, director of the Office of Residence Life and the Hug Don't Hate faculty advisor. "Offers of free hugs make so many people smile — even those who decline. BU is such a large institution, and I think this organization is making it feel smaller and warmer."  
Hug Don't Hate members coordinated the event in conjunction with Residence Life , the Office of the Dean of Students, and the Warren Towers Residence Hall Association. "Everyone has been so positive about the idea," says Efromovich, who lives in Warren Towers. "All of the RAs were on board, and they have been playing an essential role to guarantee the success of the event. The residents have all welcomed the idea too, which makes us all very optimistic."
Each resident was given a Warren Towers UNITED button as well as a poster, and because "this is about BU, not just Warren Towers," Efromovich says, the first 500 students who visit the residence hall today will receive a complimentary button.
Efromovich, who grew up in Brazil, founded Hug Don't Hate through his membership in The Hague International Model United Nations (THIMUN) Youth Assembly, a nongovernmental organization affiliated with the United Nations that seeks to mobilize students to action on global discrimination issues. BU's Hug Don't Hate is the first known collegiate chapter in the world.
"Before coming to BU, I spent a summer backpacking through Europe," Efromovich recalls, "and I was shocked by the atrocities I witnessed as far as people being humiliated because of the color of their passport or of their skin. This motivated me dedicate all the time I had to fight discrimination, and that's when I brought Hug Don't Hate to BU."
Thus far, Hug Don't Hate has introduced three major initiatives. Last fall, it sponsored Hug Week, and this spring it launched the Everyone Deserves a Hug campaign, in which Hug Don't Hate members stand in Marsh Plaza and offer free hugs to pedestrians. In March, it brought the Human Race Machine to campus. The machine takes a photo of the user and modifies the image so the person appears as Asian, black, Hispanic, Indian, Middle Eastern, or white.
Next year, the group will introduce the Warren-West UNITED campaign, which will involve every resident in Claflin, Rich, and Sleeper Halls. Ultimately, Efromovich says, the group hopes to launch the BU UNITED campaign, which will include every window in every single campus building.
"I really admire the leadership of this organization and its commitment to uniting the campus," says Zamojski, "These students have big ideas, as well as drive and spirit."
Vicky Waltz can be reached at vwaltz@bu.edu.