WBUR team wins Science in Society award
Journalism prize goes to creators of "Fantastic Forests"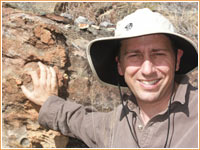 Three members of a team from WBUR, Boston University's National Public Radio station, have received a 2006 Science in Society award for work on WBUR's Fantastic Forests: The Balance Between Nature and People of Madagascar. Picking up the award were Daniel Grossman, correspondent on the project, Ken George, the project manager, and Gavin MacCarthy, the Web designer and multimedia editor.
The National Association of Science Writers (NASW) holds the independent competition annually to honor outstanding investigative and interpretive reporting about the sciences and their impact on society. Winners of the award, considered the highest honor in science journalism because winners are chosen by their peers, receive $1,000 and a certificate, which will be awarded October 29, 2006, at NASW's annual Science in Society meeting in Baltimore.