WBUR presents Elie Wiesel
The Time of the Uprooted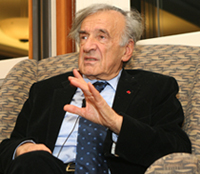 WBUR, Boston University's award-winning National Public Radio station, rebroadcasts the second of the three 2005 installments of the annual lecture series Three Encounters with Elie Wiesel: The Fascination with Jewish Tales. The lecture was sponsored by the Boston University Elie Wiesel Center for Judaic Studies.

After an introduction by the director of the BU Hillel House Rabbi Joseph Polak, Wiesel read excerpts from his book "The Time of the Uprooted," and discussed the issues facing those who are forcibly removed from a culture, a position, or a certain status in society.
An internationally renowned human rights activist and author, Wiesel won the Nobel Prize for Peace in 1986 and has taught at Boston University since 1976. He has been delivering his annual three-lecture series The Fascination with Jewish Tales since 1975.
To listen to the lecture, click here.