Turning College Hopes into Reality
BU People: Bobby Treviño makes admissions more accessible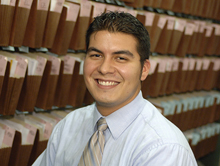 When he finished high school, Bobby Treviño's main goal was to get out of El Paso, Tex. But five years later, he's delighted to have a job that sends him back to his hometown regularly. An assistant director in the Office of Undergraduate Admissions, Treviño (CAS'05) says he wants to make sure other students from Texas know that BU could be a great place for them — and to prove his point, he tells them about his own experience as an undergraduate here.
"I really want to see them up here, because it's an experience they can't have down in Texas," he says. "I felt like I had the best of both worlds in my new experience in Boston and my culture from El Paso."
Treviño never expected to work in higher education — as an undergraduate, he pursued a double major in biochemistry and classical civilization and planned to go to medical school. He initially stayed away from cultural groups on campus, choosing to spend his free time playing alto saxophone in the marching and pep bands and joining the Pre-Med Society.
"Since El Paso is about 85 percent Hispanic, I didn't really gravitate towards that when I came here," he says. "I wanted to be able to experience a whole new kind of life."
Halfway through college, however, Treviño realized that he didn't need to keep his past and present separate and got involved with La Fuerza, the Latino cultural group on campus. At the same time, he joined the newly formed Admissions Student Diversity Board (ASDB), an initiative designed to help recruit qualified students from four underrepresented minority groups — black and African-American, Hispanic and Latino, Native American, and native Hawaiian or Pacific Islander. As a student member of ASDB, he helped plan the annual Multi-Cultural Weekend in March, participated in phone-a-thons to reach out to minority students, and helped enlist student hosts for campus visits. After graduating, Treviño realized his work with the admissions office meant more to him than his plans to become a doctor. He began working full-time for the Office of Admissions in 2005.
Since then, he has continued to work with ASDB and plan Multi-Cultural Weekend, as well as travel around the country educating high school students about BU. His assigned territory is his home state of Texas, and at the start of the academic year when his traveling begins, Treviño finds that he's his own best recruiting tool — a young Texan who found a career he loved by taking a risk and coming to Boston.
"I get to really relate to some of these students from all over Texas," he says, "and say, 'Hey, this kid from El Paso went to BU. Why can't you?'"
Jessica Ullian can be reached at jullian@bu.edu.