The Terrier turnaround
Men's hockey team's midseason vow to reverse downward skid has paid off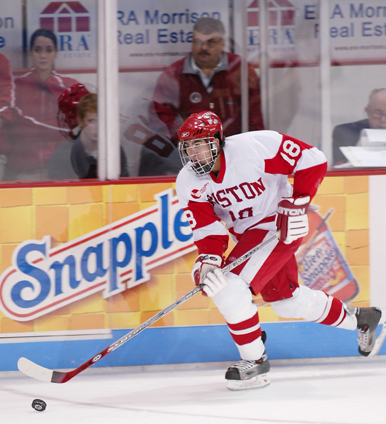 Just call the men's hockey Terriers the Comeback Kids. Owner of the Hockey East regular season title, and marching to the conference tournament semifinals on Friday after eliminating UMass-Amherst in the opening round games on March 10 and 11, BU is the third best squad in the nation, according to the U.S. College Hockey Online/CSTV poll. Not bad for a team that was unranked and flirting with a .500 record at the beginning of January.
The turning point in BU's rags-to-riches season was not, as is commonly believed, beating its archrival, top-ranked Boston College, on January 27. Nor was it repeating the feat in the Beanpot championship game against the Eagles two weeks later. The spark that ignited the fire in the Terriers' eyes — and an 11-game winning streak — was a conscious decision during the holiday intersession to play to their potential.
After BU was pounded by Providence, 5-1, in Agganis Arena on January 6, the Terriers agreed that enough was enough. That blowout included an ill-timed line change that left BU defenseless against a Providence breakaway goal. Five minutes later, forward John Laliberte (SHA'06), on a rush, passed back to defenseman Dan Spang (CAS'06), who tripped and fell, hanging goaltender Karson Gillespie (CAS'08) out to dry for another Friars score.
It was a comedy of errors, but coach Jack Parker (SMG'68, Hon.'97) wasn't laughing. He lambasted the team for its physical and mental effort that night.
"At the end of the break we realized that things had to change," says Laliberte. "We had a few team meetings with the coach, and he made it clear that what we had done so far wasn't acceptable. We knew we had to put in that extra effort."
The New Year's resolution worked wonders. BU has lost just one of its last 19 games. "There was a push to play better, and we've responded pretty well," says Laliberte, the team's fourth-leading scorer. On January 6, the team's record was 7-8-2. Now, at 23-9-4, it has not only passed that magic 20-win mark, but has also saved its best hockey for the optimum time: the end of the regular season and beyond.
The Terriers make no excuses for their early season woes, but they did start the 2005-2006 campaign with two seniors sidelined with mystery ailments: cocaptain David Van der Gulik (CAS'06) had a condition that was first diagnosed as inflammation of the pubic bone and later a groin tear. The injury caused so much pain that he could barely skate. Defenseman Jekabs Redlihs (SED'06) suffered from a strange virus-like illness that sapped his strength and kept him off the ice for almost three months.
Fortunately, the Terriers responded, with freshmen filling the gap. First-year forwards Brandon Yip (CAS'09), Jason Lawrence (CAS'09), and Chris Higgins (CAS'09) — all on the same line — began to raise eyebrows. Yip, an eighth-round draft pick of the NHL's Colorado Avalanche, is the team's third-leading scorer and is leading Hockey East rookies in scoring, with 26 points.
Yip has plenty of post–high school hockey experience. Before coming to BU, the native of Maple Ridge, B.C., played two seasons with the Coquitlam Express of the British Columbia Hockey League, where he tied for first on the team in scoring last year. Even a highly touted freshman, however, faces an adjustment period in the first semester as he learns his new team's system. And although it's difficult for a freshman to make an immediate impact in Division I hockey, Yip's skills were evident from the start.
"Brandon has stepped into an important position for us: playing the point on the power play," Laliberte says. "It's advantageous to have a freshman who can make plays and distribute the puck the way he does."
Yip played a big part in BU's 5-3 victory over Northeastern on March 3. Late in the third period, when the game was tied 3-3 and BU went on the power play, he fired a cross-crease pass to forward Kenny Roche (CAS'07), who scored the game-winner with 2:15 left.
After back-to-back 4-1 victories over UMass-Amherst in the Hockey East best-of-three quarterfinals, with Van der Gulik scoring a hat trick in the first game and Laliberte scoring a goal in each contest, the sky's the limit for BU this season. The team, with Van der Gulik and Redlihs back on the ice, has a lot of depth — and heart — because of upperclassmen who decided at midseason that they were through with mediocrity and underclassmen who have risen to the challenge.
For information about downloading podcasts of BU's sweep of the Minutemen, click here.