The Right Moves on Replay
BU and Comcast ink deal for hockey, basketball On Demand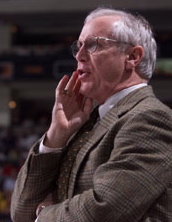 Men's hockey Terrier Tom Morrow (MET'07) wrists a shot under the Harvard goaltender's glove and scores the first goal of his career. Some fans may have blinked and missed the crucial goal, but Comcast customers were able to watch the November 21 BU win over Harvard on CN8, replaying Morrow's goal as many times as they wanted, thanks to a recent partnership between BU and Comcast.
Under the two-year deal, CN8, part of the Comcast Network, is broadcasting eight of this season's BU men's hockey games and two BU men's basketball games. Immediately following the broadcast, the contests will be available On Demand for at least two weeks for viewers to watch whenever they want, with the ability to pause, fast forward, rewind, and replay.
CN8's Terrier coverage began November 10 with the men's hoops 70-57 loss to George Washington. With two November BU hockey games already broadcast, CN8's next ice offering will be the Terriers' home game against Boston College on Saturday, December 2, at 7 p.m. For the full schedule of radio and TV broadcasts and webcasts of all BU athletics events, click here.
"The idea was to provide greater opportunities for our fans to follow our teams locally, regionally, and nationally," says Mike Lynch, BU athletics director. "The athletics department is trying to stay on the cutting edge of technology, and this deal helps us to do that."
Last spring BU became the first college in the country to offer fans video podcasts of its athletics contests. "We already have podcasting, as well as live and archived web streaming of our hockey games," Lynch says, "and now we have TV broadcasts that extend to a much larger audience than we've had in the past."
"For quite some time we had been talking about putting together a package with a cable TV carrier that not only allowed us to expand our television footprint, but also include some unique attributes," he says. "We had a number of interested parties, but no one came to the table with more flexibility than Comcast." The Comcast Network is the country's leading cable and broadband services provider, and CN8 broadcasts an extensive sports and entertainment menu into more than nine million homes in 12 states.
Alumni benefit tremendously from the deal, especially the fans who can't make it to games at Agganis Arena and elsewhere, says Mike Eruzione (SED'78), director of athletics development at BU. "It can be difficult to get tickets for some home games, like the upcoming [December 2] BC game," says the former BU and Olympic hockey player. "It keeps them in the loop."
BU also partnered with Comcast to air other exclusive content On Demand, beginning with a 30-minute interview with BU hockey coach Jack Parker (SMG'68, Hon.'97) by radio hockey commentator Bernie Corbett (CAS'83).
The partnership "gets more and better college hockey to the thousands and thousands of sports fans and BU alumni in our coverage area, and it gets more exposure than ever for one of the country's premier hockey programs," says Jon Gurevitch, CN8 Sports vice president.
The deal significantly expands regional TV coverage of BU athletics this fall and winter. Five men's hockey games — including both Beanpot tournament contests — and two women's basketball games are already scheduled on NESN, which will also televise Hockey East tournament contests. In addition, three men's hockey games will be televised on CSTV, which is offered in cable providers' specialty packages. "We want our fans to keep up with their teams in any form or fashion," says Lynch.

Brian Fitzgerald can be reached at bfitzger@bu.edu.