Student spotlight: poems by Jonathan Chin
Bringing performance poetry to the masses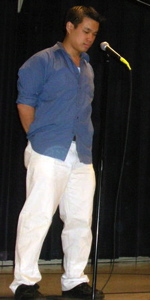 Throughout August, BU Today will publish pieces of student scholarship and creative work. Jonathan Chin (CAS '07), a double major in English and Computer Science, grew up in New York City where he graduated from Stuyvesant High School. He believes there is enough art in everyday life to inspire anyone and often writes about the things around him: cities, people, and world affairs.
Jonathan is an advocate of the liberal arts as well as the martial arts, and is pursuing his black belt in Tae Kwon Do. He is a member of Doc Brown's Traveling Poetry Show and will be performing nonstop hours of slam styled poetry with them on Monday nights at the Lily Pad in Cambridge. He is organizing a visiting poets series, Contact Buzz, connects aspiring college poets in the Boston area with more experienced poets in an informal and spirited atmosphere. He is also a member of Speak for Yourself, Boston University's only performance poetry group. They have put on shows with themes ranging from community service to racial equality and also spoken at a local high school for national poetry month.  
His website, Shared Haze, is available at http://www.jonathanchin.com The poem here originally appeared in the first issue of Burn Magazine, which can be found throughout the campus. The editors can be contacted at burnmagazine@gmail.com.
       It's    Real
Satan   has   burned the    city  down     Ali
I  hope     where  the    cold   ash    is you   are not
I   hold  one     syllable left   in  your     plot
Farewell's   the  evidence   –  Read  it   slowly:
What could   love  do  dissolving in   hell-fire?
I'll   be  consoled     by  a    small  funeral
in     God's   Street  that      angels    controlled
They   led     me  to    the   earth  you   were under
A    refugee, O Yaar,     comes    afterwards
he  heard of    agrowing    Ghazal   untold   —
my    heart  is    my   former god     so  I sold
him   a  lie   Shahid  …   I  stole    your    words —
Each    existence   will    unfold    in realtime.
Belovèd   I'll     be    parolled   in  real      time.
Jonathan Chin,
for Agha Shahid Ali,
taken from his words
for Daniel Hall
I'll do what I must if I'm bold in real time.
A refugee, I'll be parolled in real time.
Cool evidence clawed off like shirts of hell-fire?
A former existence untold in real time …
The one you would choose: were you led then      ? What longing, O Yaar, is controlled in real time?
Each syllable sucked under waves of our earth —
The funeral love comes to hold in real time!
They left him alive so that he could be lonely —
The god of small things is not consoled in
Please afterwards empty my pockets of keys —
It's hell in the city of gold in real time.
God's angels again are – for Satan – forlorn.
Salvation was bought but sin sold in real time.
The throat of the rearview and sliding down it
the Street of Farewell's now unrolled in real time.
I heard the incessant dissolving of silk –
I felt my heart growing so old in real time.
Her heart must be ash where her body lies burned.
What hope lets your hands rake the in real time?
Dear Friend, the Beloved has stolen your words —
Read slowly: the plot will unfold in real time.
— Agha Shahid Ali