Skating into the Holiday Season
The BU Figure Skating Club takes to the ice on December 2 for its annual holiday show.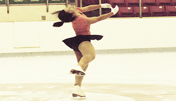 This year's packed schedule of student holiday performances kicks off with a BU Figure Skating Club show on Saturday, December 2, when 15 club members take to the ice to perform individually choreographed works. The 50 club members spend about 20 hours a week on the ice and compete several times a year, in addition to biannual BU performances. The show begins at 7 p.m. in Brown Arena, 285 Babcock St.