Shedding light on cancer detection
Fiberoptics could make diagnosis more accurate, less invasive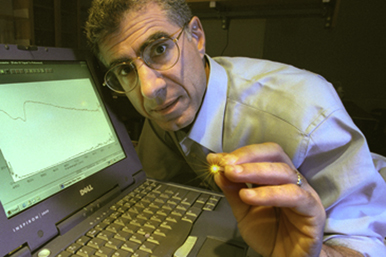 This story was published on BU Today November 4, 2005.
Imagine that years of acid reflux disease has altered the lining of your esophagus, putting you at a high risk for esophageal cancer. To check for malignancy, a doctor would most likely use tiny forceps fed through an endoscope to snip random biopsy samples from your esophagus. Then you'd wait anxiously while the samples were sent to a lab and examined by a pathologist.
Irving Bigio, a College of Engineering professor of biomedical engineering and electrical and computer engineering, is researching an alternative. It's called optical biopsy, where a doctor shines light on the target tissue with a fiberoptic probe. Because cancer changes the structure of cells, light scattered by healthy tissue emits a different spectrum than light scattered by malignant tissue, and this "spectral signature" can be read by a small spectrometer at the other end of the probe.
Optical biopsies are one aspect of a technology known as optical spectroscopy which Bigio and his colleagues at the Biomedical Optics Lab are working on during the third year of a five-year, $5.5 million grant from the National Cancer Institute (NCI). They are also using the grant to research a technique whereby doctors can measure the amount of a chemotherapy drug in a tumor, all by the glow of a tiny, noninvasive fiberoptic probe.
The technologies are in an advanced stage of research, with several patents held by Los Alamos National Laboratory in California (where Bigio worked before coming to BU and founding the Biomedical Optics Lab in 2001) and some patents being licensed to corporations. In addition, Bigio's lab and its institutional partners are already testing the optical techniques in clinical trials, aiming to make the techniques sufficiently reliable and easy enough to use that they become standard patient care.
Nevertheless, it may be years before the optical biopsy and chemotherapy measurements are common medical practice. "I've seen a number of new technologies go through the feasibility and prototype development phase and then stall there and never make it to the clinic," says Houston Baker, NCI's program director for imaging technology development.
NCIs grants like the one awarded to Bigio's project, and to three other international teams, seek to speed up that transition for optics and more quickly incorporate new technologies into the fight against cancer.
Still, Bigio knows that the science of medicine can be hurried only so much. "It's going to take a lot of patients, and a lot of data to demonstrate that this technique works," he says.