Robertshaw named lacrosse head coach
Liz Robertshaw was named head coach of women's lacrosse.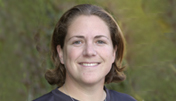 After three years as assistant coach, Liz Robertshaw has been made head coach of the Boston University women's lacrosse team.
"I am very grateful to Boston University and the athletic administration for this opportunity," says Robertshaw. "I have thoroughly enjoyed the past three years and am very excited to begin my head coaching career at such a prestigious institution."
An eight-year coaching veteran at the Division I level, Robertshaw has been the Terriers' offensive coordinator and has led the team's recruiting efforts, which have resulted in the BU attack unit being nationally ranked in the top 10 for the past two seasons. During that time, the women's lacrosse Terriers have made two appearances in the NCAA tournament, compiled a record of 33-7, and been ranked third in the nation.
"Liz has been a key component to our success over the past three seasons, and we are confident that her style and dedication will maintain Boston University's position as one of the top women's lacrosse programs in the country," says Mike Lynch, director of athletics.
Before coming to BU, Robertshaw was an assistant coach at Brown University and at her alma mater, George Mason University.