Picking Metcalf winners
Committee looks for eloquence, ingenuity, and community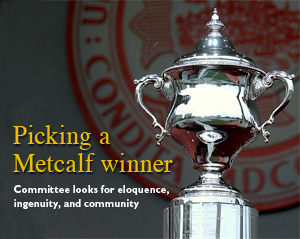 Last year, while sitting in on John Carroll "Carl" McManama's class at the School of Dental Medicine, Anatoly Temkin found himself surprised, engaged, and amused by a discussion on dentistry.
"He was explaining in a manner that was very interesting for me, even though I don't know anything about teeth," says Temkin, a Metropolitan College computer science assistant professor, winner of a Metcalf Award in 2004, and a member of last year's awards committee. "I was very carefully observing the students, and they all looked really, really happy to be in his lecture."
The level of engagement that Temkin and other committee members observed in the classroom clinched their decision to award McManama the 2005 Metcalf Cup and Prize for Excellence in Teaching. This year, the seven members of the awards committee — which includes Temkin and McManama — come from a number of disciplines and have a variety of thoughts on what makes a great teacher. But all agree on one critical point: to really understand how good a professor is, a person has to sit in his or her classroom.
So this year, after months of reading letters of recommendation and statements of pedagogy from all the candidates, each committee member spent a few hours in each finalist's classroom — learning, observing, and sometimes picking up teaching tips.
"It's a great way to get to know the University," says Bonnie Costello, a College of Arts and Sciences professor of English and a 1994 Metcalf winner. "You're seeing the University at its absolute best. It's fascinating as an insight to both teaching and learning."
The Metcalf Cup is the University's highest teaching honor, and the Metcalf Awards are no less a distinction. Established in 1973 by a gift from the late trustee chairman emeritus Arthur G. B. Metcalf (SED'35, Hon.'74) and presented at Commencement, the awards are a ceremonious, public expression of gratitude to the teachers that students regard as the defining figures of their academic careers.
Less is known about the people who determine the Metcalf recipients. The committee consists of five previous Metcalf winners and two undergraduates, who are selected based on recommendations from provosts and deans. They are convened over the summer by the Office of the Provost, and the job officially begins in October, when the nomination process starts.
The letters come from students, faculty, and alumni, and their praise is tremendous — one student says that she was "instantly struck by [the nominee's] eloquence and ingenuity — the way in which he managed to imbue even the most passing comment with an artful and fascinating creativity." A faculty member, recommending a colleague, notes that the nominee "continues to make groundbreaking contributions to … scholarship" but also "somehow manages to devote an enormous amount of time and energy to mentoring … graduate students at every stage of their program of study."
The fact that "so many different voices" influence the Metcalf process adds to the reward, says Diana Wylie, a CAS professor of history and a member of this year's committee. "The pool is quite rich, because it's not authorities alone that are nominating people," she says. "I think that means it's very representative of the whole community."
But while the recommendations play a critical role in starting the process, the committee members place a high value on what they hear from the candidates themselves. A statement of pedagogy, in which the nominees are asked to explain their beliefs on effective teaching and their own classroom methods, has always been required; this year, the committee took an unusual extra step and asked the semifinalists to write a second statement, in which they answered a question about the challenges of teaching at Boston University.
For committee members Harris Phillips (CAS'06) and Lauren O'Donnell (CAS'06), this question was particularly important — if a faculty member does not have an accurate perception of the University's problems, such as a lack of community engagement, it indicates that he or she is not truly connected with life here. "I tend to pay less attention to how many works the professors had published, and more to how much they're involved in at BU," says O'Donnell, who was asked to join the committee because of her selection as a 2005 Case Scholar. "To me, that's more important."
Over the course of the fall semester, the committee members spend much of their time visiting a room in the executive offices at One Sherborn St., where all the written materials are kept — they cannot remove any of the recommendations or personal statements. By January, the committee has narrowed the list down to a small group of finalists. "To me, the most difficult part was to keep all the best people in the pool, to not accidentally cut someone who is a really great classroom teacher," says Temkin.
Then the classroom visits begin. Each committee member has a different approach —O'Donnell watches other students. "You see if they're making eye contact, watching when a professor says something to see if they react," she says. "It's easy to see."
Costello notes each instructor's methods of capturing and keeping students' attention. "I saw very intimate classrooms where the teacher used tremendous body language and theatricality," she says. "I saw very large classes where somehow the teacher was able to give a sense of engagement and interaction despite the fact that there were 200 people in the room. I always felt, in every classroom that I visited, a connection being made."
Wylie, who won a Metcalf Award in 2002, was struck by the different ways professors established links to their students — one candidate, she says, told students about his own struggles with the subject when he was in their position, and another listened so closely that he was able to work students' discussion points back into his own lectures. "It was a validation of our endeavor when it was happening, and you could see a colleague putting all of his or her energy to beguiling the students," she says.
At the end of the process, the committee meets to determine the final three candidates — a complicated task, the members say, because at this point, all of the nominees are in many ways equally skilled and talented. The decision, they say, often ultimately depends on their own experience in the classroom and whether they found themselves intrigued by totally unfamiliar material.
The process is extremely time-consuming — Temkin estimates that each person spends 60 to 70 hours on the research — but the committee members say it offers a rare opportunity to discover the University in a new way. "It makes you feel like a part of something really big that's going on here," Temkin says.
And for those who have previously won a Metcalf, the process renews the honor. "It really made me feel, more than anything, that I'm participating in something larger than myself," says Costello. "And really, at its best, it's quite wonderful."